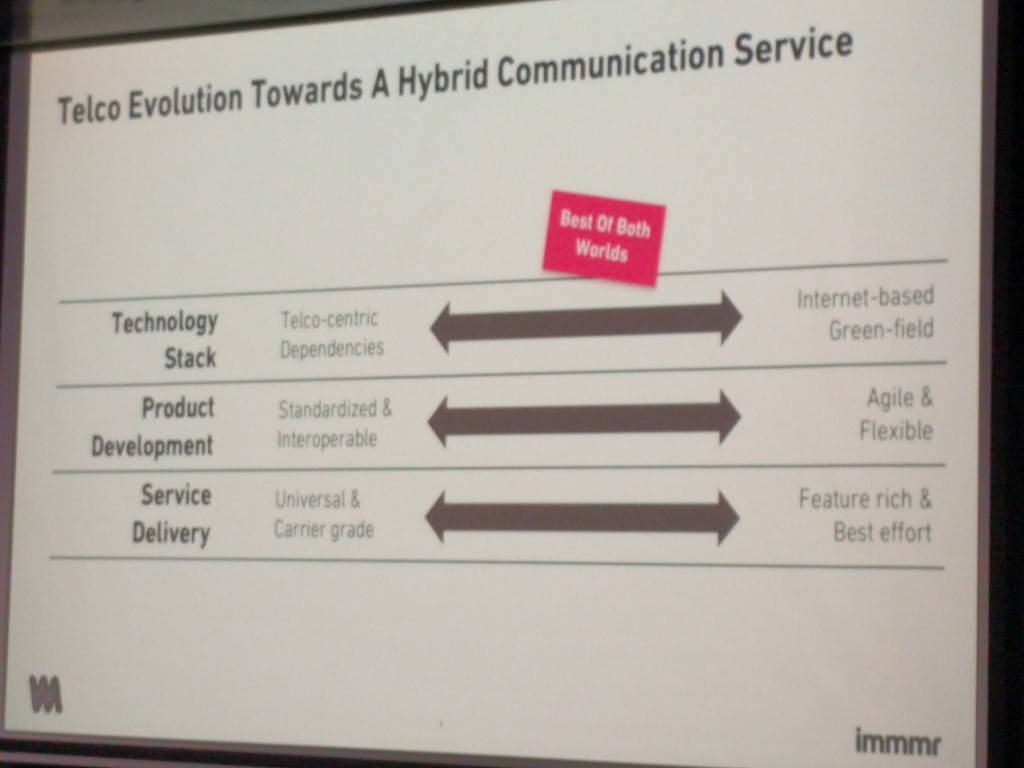 We're reviewing the presentations from the second half of the afternoon of TADSummit Day 1 in this weblog, the weblog covering the first half of the afternoon is available here (service innovation with programmable telecoms), morning sessions are available here (welcome and innovation showcase) and here (sponsor keynotes). The agenda is here. TADSummit is the telecom service innovation event, in its 5th year, it brings the programmable telecoms industry together to share insights, best practices, and help build an open global ecosystem.
Going both ways – Telecom's potential of an IP comms platforms next to the classic Telco Stack by Sebastian Schumannm Vice President Engineering at immmr
immmr is a great example that large telcos can do things differently. However, we've seen this before with Orange Libon, but while Libon fizzled when the corporate suits took over, immmr is being given room to grow, do things differently, and is being made a 'magenta' service. No longer the arms-length, "that's our OTT experiment," rather part of the branded portfolio of services.
Sebastian shared a great presentation, showing how the immmr team are bringing voice into the 21st century for Deutsche Telekom group. If they are able to achieve the best of both worlds for a sustained period of time, this will become a success template for many telcos.
A transformation from last years' proposition – shaping focus
immmr's challenges as a Telco funded start-up
1 year and 1 launch later, what has changed?
The TADS story continues: platform transformation and new partnerships
Voicemail innovation in a World of Bots and AI by Karel Bourgois, Founder and CEO Voxist
Voxist progress report: the highs and lows of building a voicemail (intelligent agent) startup.
Front-line report on voice recognition, voice control; and 'intelligent' agents.
Navigating hype and the latest technology to deliver delightful customer experiences.
Focusing on business verticals, getting the recipe right for the 1st, 3rd, 6th and 10th target segments.
A2P Communications Innovation within the Slack Ecosystem by Luis Borge Quina, Founder and CEO ottspott
Status report on the pivot can i buy xanax over the counter in mexico from Apidaze to Apidaze & ottspott.
Front-line experiences in building an A2P business in Slack.
What Slack gets right and what we'd like to see developed.
What we need from platforms like Google RCS or WhatsApp or HipChat to add ottspott.
Programmable Telecoms in the Insurance Industry. PLUS Award Winning exo.expert demo and analysis by Philippe Vayssac, CIO, Groupama
Progress update on the use case of Programmable Telecoms in the insurance industry, projects like granvillage.
exo.expert, winner of the innovation award by the French government department of FinTec – Pôle de compétitivité mondial Finance Innovation. Groupama's partners use them on a weekly basis for their expert missions in order to easily survey crops and measure the damage caused by bad weather or animals quickly and accurately with no drone flying expertise required.
If you want the recipe to do this project, the recipe that I used for exo.expert… I will train you this evening 🙂
TADHack Winners Showcase
Showcasing some of the TADHack winners presented by:
Jos Strijbosch, Director EMEA, Apifonica
Harold Vance, Customer Success and Delivery, Telestax
Chip Wilcox, CMO Temasys
Ben Pinkerton, Vidyo
Introduction to Design Thinking & Effectuation by Philippe Vayssac, CIO, Groupama
Philippe has achieved an impessive track record of successful innovations in Groupama. He has studied for over 5 years the methods of Design Thinking and Effectuation; and considers them core to his success. This special evening session is for those who want to understand an introduction to these methods.
We plan to use these methods with Philippe's help at TADHack Global 2018. To help teams develop their hacks during the event, as well as encouraging them to continue developing their ideas into world-changing businesses.
Effectuation is a way of thinking that serves entrepreneurs in the processes of opportunity identification and new venture creation.
Design thinking uses the designer's sensibility and methods to match people's needs with what is technologically feasible and what a viable business strategy can convert into customer value and market opportunity.