At TADSummit on the 12 and 13 November, there will be six work streams over the two days of the event, as described in this Introduction to TADSummit weblog. The work streams will be divided into detailed case studies and facilitated work group discussions focused on solving / exploring key issues in building the telecom application development ecosystem.
There will be work stream sign-up so people can choose what stream is right for them.  Each work stream leader will choose the format that is right for their work stream.  We're having an online discussion for each of the work streams in the run up to TADSummit to expand on the issues, generate discussion, and ensure the time working together in Istanbul is intense and productive.
Work Stream 2. Is focused on addressing the question, "How do Telco and Vendor Ecosystems work together?"
There is a dynamic tension between the telco, technology providers, and service innovators (developers). Through a series of case studies and facilitated discussions this work stream will produce a series of insights, recommendations and actions necessary to achieve a vibrant and profitable telecom application developer ecosystem.
At first sight it would appear simple, there's a developer who creates a service on a platform which is operated by a telco. However, what we are seeing in the market in an explosion of business models. This is an important phase of experimentation in the market, but failing fast and getting to models that work is essential for the health of the ecosystem.
The diagram below is just a framework to kick off the discussion, it is not complete,  three of the main platform models on which services run or the capabilities are exposed are: operator owned and operated e.g. as Telecom Italia does with its APIs; or hosted by a third party but still operator owned as we're starting to see from some of the NEPs (Network Equipment Provider); and a third party platform for example as is popular with payment APIs. All three platform models can exist at the same time within a telco, as a capability made be exposed through a third party platform for general development, while for strategic partners it could be through direct connect.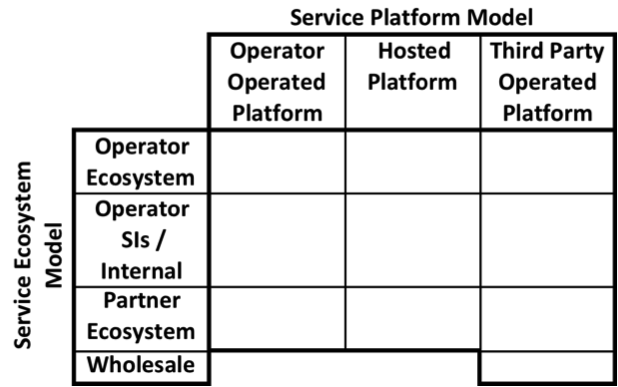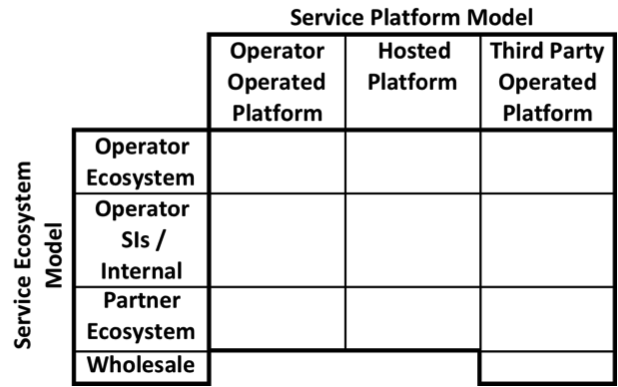 On the ecosystem model there are Operator Ecosystem like AT&T's developer community; an operator may have a more focused ecosystem of a few SIs that do bespoke development on its platforms as we see with for example Play in Poland. An operator can also work with a partner's ecosystem, that are vested by either being the platform or hosting environment, as we see with Tropo and some of its customers. And finally the traditional wholesale model where the telco offers wholesale direct connection to its network capabilities and the partner aggregates them regionally or globally and works directly with its customers, in this case the service platform is a third party like Nexmo.
Another dimension to this matrix is the range of charging models from the end customer paying for a service, through a range of revenue share models, to the third party paying for an enabler.
And if that were not enough we have a range of contractual models being explored in the market at the moment from the tradition "telco contracts supplier" one on one model, to tripartite deals to keep the chains of communication and responsibility short and in the control of the telco.  For many who have worked through a Network Equipment Provider, they will appreciate the importance of such a deal structure.
The focus of this work stream is to the review these models, understand what is working and why, review how partner ecosystems are evolving from both the wholesale side as well as from the operator platform provider side, and flesh out the framework to help those in the work stream understand what is right for their specific situation and plan accordingly.
The point of this article is to start a discussion around the framework and gather questions and discussion points for Work Stream 2 in November. You can comment directly on this weblog, or across the Linkedin groups in which this article is published.
Here are some questions to kick things off:
Is the framework complete? Are there missing categories?  Should we break out co-branded applications and services?
We grouped the operator contracted system integrators with internal development as we see both fulfilling the same need of operator branded services, is this correct?
The partner ecosystem really assumes a platform partner, but there are other partners, e.g. Microsoft or IBM  can bring their ecosystem in enterprise partners. Should we have a finer grain split in partner ecosystem?
We split operator owned and operated from hosted, as the hosting models appear to bring their own ecosystems, and appear to be leading in the tripartite contract structures.
Will an operator need to support all options in this matrix? Is there a prioritization?  Are some not worth the effort?
The concern with the wholesale option is the continued commoditization of basic services leading to squeezed margins and in the limit revenue declines. Is this assumption correct?
What is the relative revenue opportunity between the wholesale option and the 9 other options combined?
What are the strengths and weaknesses of partner ecosystems?
Can telcos really foster their own ecosystem given the narrow network focus, the big company culture of painfully slow, risk-adverse, and analyze everything?  But without ownership of something the only addressable revenue is the commoditizing wholesale revenues.
The list goes on and on, but you can see this will be a juicy work stream and by November we'll have had a rich discussion, a mature framework for the discussion, and have some well-honed questions to answer.
If you want to get involved please contact me, and please discuss online!