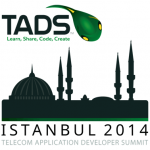 Below you can see an interim drop of the TADSummit 2014 pre-conference survey results.  The survey ran in the week before TADSummit, gathering opinions from the TADSummit address list (currently 1600). It presents a balanced view across the TAD ecosystem with currently 51 respondents from around the world with a representative mix across developers, telcos and technology vendors (note the survey is still running).  Some of the highlights in the results are:
Broadening interest across a range of technologies, with telecom APIs remaining top, but app servers and WebRTC are rising;
Naturally a focus on the Telecoms vertical, but Finance, Healthcare and Consumer verticals also have a strong interest for telecom applications;
A broadening interest across a range of telecom APIs, the challenge being able to use them across a country / region.
An impressive and interesting list of questions for both the keynote sessions as well as the closing panel, which shows the power of using an ecosystem;
Strong endorsement of the agenda in its practice focus with lots of networking opportunities which is the top way people get new business; and
Strong endorsement for the hybrid (in-person and online) TADSummit 2015 event plans to broaden its reach across the industry.