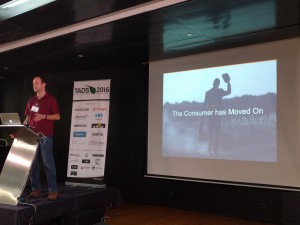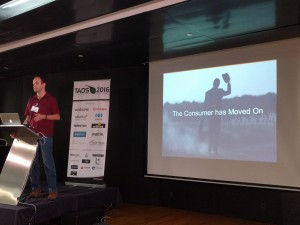 The focus of TADSummit 2017 remains, since its inception, a place for practitioners across multiple industries to come together and share their experience-based thought leadership in telecom app development. Telecoms is now programmable, almost every aspect of Telecoms can be considered an app, just like the Web. This shift remains poorly understood within the telecoms industry, and of course more broadly across most industries.
Programmable telecoms covers a broad range of technologies / concepts: contextual communications, conversational CRM and BOTs, M2M and IoT, telecom APIs and WebRTC, internal innovation in non-telecom industries, decentralized web, application-to-person comms, network app stores, enterprise telecom apps, open source software, open networks, and many many more. Telecoms is pervasive to communications for people and for things, and its now programmable hence democratized for everyone to build upon. Its an exciting time in telecoms, with many new businesses and services being created and shown at TADSummit.
TADSummit delivers your most accurate guide for the coming two years with world–first demonstrations of what is made possible in the shift to programmable telecoms; from the guts of telecom networks though to its application in industries like retail, farming and insurance.
We demonstrate new businesses created on telecom APIs across all stages of growth, enterprises using chatbots and open source telecom software to gain competitive advantage, software defined base-stations at a small fraction the cost of today, spectrum as a service / multi operator neutral host small cells enabling any business to 'run' its own mobile operation, we showed the way forward on NFV/SDN with cloud computing years before the establishment recently started to admit it.
What makes TADSummit unique from all other conferences is its made possible by the ecosystem for the ecosystem, there's simply no BS, its just world-class insight and experiences being shared. Looking back over the years: 2016, 2015, 2014 and the beginning in 2013; you can see the consistent thought leadership, we show without the hype and marketing BS where the technology and industry are going. As testament to this fact, the TADSummit sponsors keep getting acquired.
TADSummit 2017 (website is coming soon) will be in Lisbon on 14-15 November. We run it in Lisbon to keep costs low so start-ups can afford to sponsor. Its also a nice location for some 'warm' 70sF / 20sC weather in mid-late November. Many sponsors and attendees organize events around TADSummit.
Some of the themes for this year include:
xVNO Service Success. Programmable telecoms enables xVNOs to own their services, to win new revenues by service differentiation, to meet local market and vertical market needs unlike another service provider has done in history. We will share a series of case studies and exciting innovations accelerating xVNO service innovation around the world. With contributions from the likes of Telestax, Cap Gemini, Telet Research, Temasys, and DataArt.
Decentralized Web / Decentralized Telecoms / Network App Store / Neutral Hosting. With contributions from IPFS (Inter-Planetary File System), Canonical/Ubuntu, Matrix, Filecoin, Ethereum, Telet Research, Temasys and many more. We will show the impact of the decentralized web/telecoms across many industries, plus the new services and capabilities being created.
Application to Person Service Showcase. The p2p IP messaging platforms such as WeChat, Line and recently Facebook messenger are leading the commercialization of IP messaging. With Bots, IoT, official accounts, new group communications services, becoming new service launch pads in their dominant country of operations. WeChat in China has become the first touch-point to the internet for many people in China. Google has launched an RCS based IP messaging service that telcos are using or interconnecting with. A2P is where the money is and this theme will show how to build a vibrant local a2p ecosystem.
Programmable Telecoms in the Enterprise. Enterprises seek solutions to business problems, not fancy technologies. This session cuts through the technology marketing hype and shows how businesses are solving real problems with programmable telecoms. With contributions from Nexmo/Vonage, Temasys, Telestax, Matrix, DataArt, and more.
Network Services Built for the Cloud. Reviewing the challenges facing telcos in virtualizing their networks and how to solve them, with contributions from Ubuntu/Canonical, DataArt, and more.
Innovation Showcase, led by DataArt. World-first demonstrations of all the above technologies that can be deployed today. The gap from idea to commercial implementation is now months not years. You will see world-first commercial demonstrations that can be deployed and making money today, well in early 2018 at least. With contributions from all sponsors.
Dangerous Demo, led by the inimitable James Body. TADHack brings a unique blend of innovations from around telecoms. Idea to demonstration is now a few hours to days. Sam Machin created a hack on Nexmo voice gateway to IBM Watson in a few hours and gave a world-first demo at TADSummit . We have hacks created over night as the brightest people in telecoms mix and share ideas. This session is dangerous, the risks are high, the ideas are raw, and this session leads the thinking in our industry. With contributions from sponsors and attendees.
TADHack service successes. From hack to deployment, the success cases continue to grow across bots, IoT, messaging, enterprise, and social. We'll review case studies of commercial successes from previous TADHacks as well as some of the hot-hacks created at TADHack Global in 2017 that are looking for support in commercialization.
Ecosystem Action on Programmable Telecoms Education. The people who take part in TADHack are inspiring, they come from many industries. I common refrain is "I wasn't sure about TADHack, as its about Telecoms*, but I now realize this is core to my business." (* said in a tone like its a bit of a dirty / unfashionable word). This will be our 5th TADSummit, and TADHack has been running for 4 years. We're making progress in education, but its too slow, we're planning to shake things up and accelerate programmable telecoms education. We plan to be making some announcements at TADSummit 2017.
If you have feedback on any of the above themes, suggestions on what we should cover, or simply want to take part, please contact me, thanks 🙂