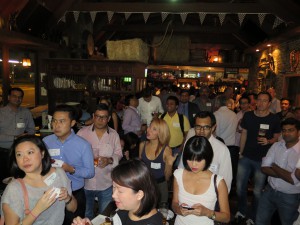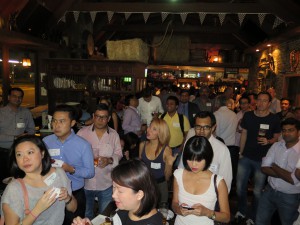 We've been running TADMeetups in NJ, Paris, and Austin.  They're informal gatherings of people interested in telecom application development.  The idea for TADMeetup Singapore began when Sam from Informa asked if I'd run a TADMeetup in parallel with LTEAsia. I was already chairing the signaling focus day, the keynotes on Day 1, the 5G Summit, and judging the Innovation Accelerator (more on all that in a separate weblog at alanquayle.com/blog). I contacted Colin Miles of MoMo Singapore, who with Wish Ronquillo arranged the venue, sponsorship from Starhub i3, and joined forces with ATIS and the Mobile Alliance.
We ran the event in Muddy Murphy's, you can see some of the pictures below, and the rest on the TADMeetup Singapore Photos (thanks to Zac). We had 85 registered turn up, plus loads of gate crashers. The slides are shown below. We started presenting around 7:15, the event started at 6PM, so people were at least one drink into the evening. The pitches had to be short and hard-hitting to grab people's attention.
Summarizing each of the presenters slides into one sentence:
Me: TADS is a grass-roots initiative focused on aiding the "Uber Revolution" of adding telecoms to apps, services and business processes
Jason, hSenid Mobile: Some of the developers using their platform are making $25k per month in Sri Lanka, more than they could make in a year.
Sam, Tropo: you can now build apps into calls – this is a world first.
Amit, Telestax: you can now create communication apps and sell through telcos.
Thomas, Temasys: developers can create WebRTC apps across all browsers using Temasys.
Ken, Dialogic: showed their PowerMedia XMS platform for creating real time communication apps and services.
After that we had many conversations across the rich diversity of people attending the event: developers, marketeers, telcos, entrepreneurs, press, social media, technology providers, investors and many more. Many useful connections were made, with the hope business will blossom from those connections. I hope Singapore can be one of the TADHack locations for 2015 🙂  Below are a few of the pictures from the night.