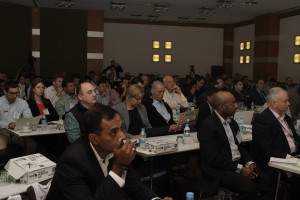 TADSummit was a packed and intense gathering of telecom innovators from around the world.  We had to bring in additional chairs, people where standing at the networking tables, and fortunately there were some stairs at the back where people could sit. Close to 200 people over two days listened to ground breaking presentations, rolled-up their sleeves and got to work solving the challenges facing service innovation, and shared ideas and experience with lots of networking.  Search "TADSummit" on Twitter to see the activity during and after the event.  Given the many highlights, word-first announcements, and insights generated during the event, I'm breaking the review into multiple sections as its simply unmanageable to cover in one article, this one focuses on the TADSummit Keynotes.
TADSummit is focused on building the telecom application development ecosystem from the grass roots:
Its ecosystem focused, bringing everyone together to find joint ways to do service innovation better in both creating cool stuff and making money in doing that; and
Its practice focused, people working in the field and at the bleeding edge of innovation sharing their experiences and insights.
We kicked the event off reviewing how in just under one year we have arrived at TADSummit in Istanbul, the largest city in Europe and the Middle East. At 14 million people Istanbul is the 6th largest city on the planet; a cultural, historical and technological capital.  With easy access for people from Europe and the Middle East, and most importantly for TADSummit a large, vibrant telecom application developer ecosystem.
More poetically just as Istanbul bridges the vast and disparate continents of Asia and Europe. TADS attempts to bridge the vast and disparate continents of Telcos and developers. So there is a poetic reason as well for TADS to be here in Istanbul.
Since TADS Bangkok, we ran TADHack in June, a global hackathon focused on telecoms. Where we had events running in parallel in Madrid, Sri Lanka, the Philippines, Malaysia, Chicago, India, and around the world through remote entries from Mexico, Russia, Netherlands, and more. Just a few numbers on the TADHack event:
Global registrations were close to 700
On the day global attendance was close to 500
We generated over 60 Hacks
126 simultaneous views of the video streams.
Close to 26k minutes of viewing.
While TADHack is squarely focused on technology, developers and amazing creativity. TADSummit is focused on business and go to market. And throughout the year we've held TADMeetups, these are informal gatherings of people interested in telecom application development where they share insights and ideas. The most recent being held last month in Singapore with close to 100 people crammed into the back of a Muddy Murphy's bar.
We introduced some of the TADHack winners.  Unfortunately, Marte the winner of TADHack Philippines, could not get his visa in time.
Ruwan Dissanayaka, Extrogene – winner of TADHack Sri Lanka
Rob Pickering, ipcortex – winner of the Google TADHack Prize
Ben Klang, Mojo Lingo – winner of the GWOB.org Humanitarian TADHack prize
TADSummit is only possible thanks to the support of many people and organizations:
Sponsors: APEX Communications, Apidaze, Ericsson, hSenid Mobile, Huawei, Nexmo, OpenCloud, Oracle, Shango, Solaiemes now Comverse, Telestax, Tropo, Ubuntu / Canonical, and Voxbone
Partners: Aculab, Dialogic, Matrix, Metaswitch, Truphone, and Tyntec
And the many other people who have promoted TADSummit and contributed their time to making TADSummit possible.
The video of my opening address is shown below.
The opening keynote from Khairil, the Group Chief Marketing & Operations Officer at Axiata Group, provided an impressive start to TADSummit.  It was open, frank, and insightful.  Khairil frankly shared their mistakes, missed opportunities, and the critical importance of service innovation to the future of Axiata group and the industry.
His key points were:
The industry has reached a "Kodak Moment."  The same fate as Kodak is waiting if the industry does not act.
Build Ecosystems, not "Egosystems."  This is spot on, the industry has  systematically failed to engage with partners as equals.
There is oil underneath your land.  Throughout TADSummit use case after use case showed the innovations made possible that are making money today.
Rise of the machines (IoT).  Currently telcos are NOT structured to take advantage of this opportunity.  Revolution in cost structure is required, which we also showed on Day 2 with a dangerous demo from Truphone, Ubuntu / Canonical, Metaswitch Project Clearwater, and Telestax.
By the end of his presentation Khairil had the room abuzz, with his fresh and insightful presentation that showed Telcos understand the problem and are now focused on execution – which is where Amos and later Venura's presentations go into more details.  The video and slides from Khairil's presentation is shown below.
Amos Manasseh, Practice Leader – API Ecosystem, Axiata Group
presented on "Building a Successful Service Innovation Ecosystem, Dialog's IdeaMart."  His big announcement was Axiata are open sourcing their API platform, Mobile Internet Fulfillment Exchange (MIFE).  This is big, it has several important impacts:
Enables operators to easily federate, getting around the GSMA's inability to execute;
Moves to focus from API platforms to services, which directly supports what we are trying to do in TADS.
At Mobile World Congress we should hear much more on this, but you heard it and understood its impact at TADSummit first.
Roy Timor Rousso, CEO of Fring which was recently bought by Genband presented on "The Life of a New Communications Service Provider."  The message was the same as the telcos, the industry gets-in.  Put simply, "the web has won, and the industry is now getting with the program."
Duygu Defne, Corporate Value Added Services / Lead Product Manager, Turkcell presented on "Turkcell's API Business Strategy." A big thanks to Duygu for standing in for her boss, who was presented at a Turkcell customer technology event running at the same time. Though the number of API transactions is small, its a critical first step in broadening the application of APIs across Turkcell's business.
And last but definitely not least was James Tagg founder and CTO of Truphone presenting on "The Services Vision of a Global MVNO / Online Service Provider (OSP)". It was an inspirational way to finish the keynotes, we'd seen with Axiata Group, telcos get it and can execute successfully, and are now revolutionizing the industry (MIFE). James showed the future of telecom application development is vast, we really are only starting to scratch the surface. James slides are not yet available, but his presentation video is shown below.
In just 90 minutes the keynotes had world-first announcements and clearly showed for the first time the industry 'gets-it' and is moving into a phase of execution. The buzz in the coffee break was papalable, the refreshing and up-lifting session had people focused on new ideas and opportunities, instead of bemoaining the problems facing the industry.