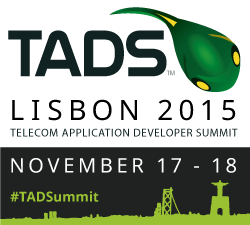 The TADSummit agenda is now available, you will see it is quite a special event. We continue to add content and will likely be adding content right up to the the event. So expect the agenda to become even more over-stuffed. There are over 6 events running in conjunction with TADSummit, because it has become the destination for anyone involved in telecom app development, that is building new services or embedding capabilities with:
Telecom APIs (including scripts and forms/templates)
WebRTC and open source telecom/web software
Enterprise comms and on-demand services
Identity and federation
Media servers
Legacy services and IMS
Messaging, location, payments, and more.
The keynote line-up is amazing with leaders from SAPO / Portugal Telecom,  LivePerson, RogerVoice, MTN, Truphone, Telenor and several yet to be announced.
The morning plenary is a run of 5 founder / CEO presentations from the people revolutionizing our industry: Jason Goecke, Tropo; Tony Jamous, Nexmo; Dinesh Saparamadu, hSenid Mobile; Ivelin Ivanov, Telestax; and Luis Quina, APidaze. Many are joint with customers to show their vision has been made real.
After lunch we have 3 streams:
Stream 1, Meet the TADHack Developers. A chance to see a few of the TADHack winners, get an update on their hacks, and insights into their experiences in telecom app development.
Stream 2, Telcos making a Difference. Learn from those leading the charge in keeping their business relevant as service providers.
Stream 3, Real-Time Enterprise. As the on-demand economy enters general business, telecom app development is revolutionizing how businesses operate.
The afternoon plenary brings an impressive line-up from Roy Timor-Rousso of Fring/Genband on the Fring Alliance, Paul Drew of Metaswitch on the rise of open source in telecoms, Frans De Rooij of Ericsson on the rise of identity business, and we finish with a teaser session from James Body on the TADCloud MNO dangerous demo.
The day closes with a dinner sponsored by Cisco / Tropo to celebrate the acquisition, a great proof-point on the importance of telecom app development, especially in the enterprise.
Note there is an exhibition running in parallel with the conference, and through the breaks there are both in-person and remote networking opportunities. Day 1 will be extremely intense, TADSummit is not for the faint-hearted, your time will be well-spent.
Day 2 kicks off with another intense plenary session.  With sessions from Amos Manasseh, CCMO, WSO2.Telco the latest sponsor of TADSummit who has realized the world-first announcement from TADSummit 2014. Kevin Pitts, Director Product Marketing, Oracle; Jim Machi, Senior Vice President of Product Management & Marketing, Dialogic; Maarten Ectors, Vice President Internet of Things, Canonical / Ubuntu; and finishing off with an important announcement from Dr Cao Yi Ming, VP Digital Products, Huawei Technologies.
We then break into 3 streams focused on:
Stream 4, Disruptive Developers. Meet developers disrupting businesses through using telecom capabilities.
Stream 5, Telcos making a Difference. Learn from those leading the charge in keeping their business relevant as service providers.
Stream 6, Dangerous Demo, TADCloud MNO. Where 8 members of the TADS ecosystem show off their world-first demo.
After lunch we come back to wrap up sessions with closing keynotes, round tables, announcements and a few surprises to close an intense 2 days.
And that's not all, we have many events going on in Lisbon at the same time as TADSummit has become a destination event for those focused on telecom app development including:
Pre-event all day on the 16th Nov. Cloud Communications Europe meeting.
Pre-event on 16th Nov in the morning. Libon Proposition and Roadmap Workshop with Ghislain Ulrich, COO Libon, and Alan Quayle, Facilitator
Pre-event on 16th Nov in the afternoon. API and Service Innovation Benchmarking Workshop, facilitated by Alan Quayle
Pre-event sponsor workshops, with more details to be announced.
Post-event on the 18th Nov in the late afternoon / early evening. Huawei GSIC (Global Service Innovation Cloud) Event.
Post-event on the 19th-22nd Nov. RESTConn Summit
Come for 2 days or stay the whole week in Lisbon. There is no other event with the quantity and quality of thought-leadership and practical focus on new services and disrupting industries using telecom capabilities. Your time will be well-spent, I guarantee it.