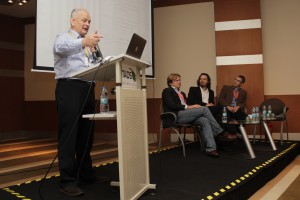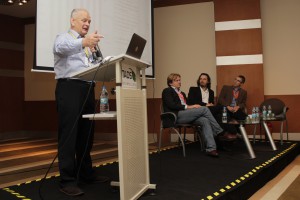 It all began in June last year, at the first ever TADHack in Madrid. We hacked together Metaswitch's Project Clearwater IMS and Telestax's RestComm application server, running on Ubuntu and provisioned in real-time using juju. You can see the hack here: IMS in Minutes, with over 1300 views, such a niche topic is relatively popular.
The TAD ecosystem then focused on building a live 'Cloud Based Mobile Network' to show off the capability of their systems and to provide a network platform into which other application platforms and services could run live.  The first iteration of this, showing a basic mobile core network was demonstrated at TADSummit 2014 in Istanbul. 
This demonstration was extended for Mobile World Congress in early 2015, with eight different component providers. For TADSummit 2015, the live Cloud Based Mobile Network has continued to evolve, now including open source billing, flexible messaging, location (GMLC) based services, authentication as a Service, USSD services, WiFi calling, Load testing/Monitoring, Open Source (Software Defined Radio) Radio Access Network – and much more.
The scale of this year's demonstration is unprecedented, it is a world-first, and includes:
Apidaze – On Demand Communications

Canonical – OpenCloud/JuJu Charms and Virtual Network Function Manager

DataArt – Conferencing and Media Manipulation 

Dialogic – BorderNet, Diameter / MAP interworking function

Fairwaves – Open Source Software Defined Radio Access Networks

Locatrix – Location Based Services 

Metaswitch – Project Clearwater and test tools

OpenCell – User and Carrier Billing

Oracle – Converged Communications Application Server

Telestax – Restcomm Application Platforms and SMSC/USSD/GMLC 

Truphone – OpenSource Communication Framework API and assorted mobile network components 

Zabbix – Real-Time Monioring and Scaling

AND – other late additions – final lineup to be confirmed shortly before event!
Hackathons provide a chance to show what is possible when engineers are given freedom to JFDI. This is how the web has surpassed telecoms in service innovation. The TAD ecosystem is simply copying a successful recipe to show the power of such collaboration across open source and proprietary telecom software. The only way NFV and SDN can save telco's money is by changing the vendors, and the vendors in this demonstration are the ones they should be changing to. TADSummit continues to lead the industry in where technology is taking not only the services but the network as well.
You can see the live 'Cloud Based Mobile Network' at the following slots at TADSummit:
17:40-18:00 Tuesday 17th November with an overview of what will be demonstrated live the following day

11:20-13:00 Wednesday 18th November, demonstration of the world's largest live 'Cloud Based Mobile Network'