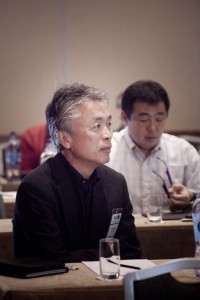 Day 2 morning plenary kicked off with presentations from Amos Manasseh WSO2.Telco, Roy Timor-Rousso Fring Alliance, Rakendu Devdhar Dialogic, Maarten Ectors Canonical / Ubuntu and Bill Yu Huawei. The evening event was at Café Luso, a Fado House, sponsored by Tropo. Providing a chance for 100 attendees from the conference to enjoy a traditional Portuguese experience with a little bit of dancing at the end. We could have filled 200 seats given the demand. Unfortunately for some, the dangerous demo preparations had them working into the evening.
Amos Manasseh, CMO, WSO2.Telco presented on "Mobile operators: working together to adopt a standardized API platform." The telco industry knows that it has a big problem: OTTs have grabbed market share and established fierce brand loyalty.  Mobile Network Operators know that to stay relevant they need to change their processes and become more agile so that they can introduce digital services quickly.
This session will discuss how we could – and should –  work together to increase opportunities for all of us. Flexible Open Source API technology is part of the answer –- but the mindset that it will foster is the more important aspect.
Roy Timor-Rousso, GM fring Alliance presented on "Forget about RCS and VoLTE. The fring Alliance is all you need!" The fring Alliance was created to provide Communication Service Providers (CSPs) the ability to deliver competitive IP communication services with a white label, fully federated real time communications platform, delivering differentiated, superior native user experience, while together building a massive, global federated IP communications user base, with a universal directory. Stop wasting time on tired, out of date, and expensive 'standards'; join the fring Alliance, its where your customer are.
Rakendu Devdhar, Product Line Manager, Dialogic presented on "Case Studies on How Dialogic Accelerates Telecom App Development." Dialogic® PowerMedia™ accelerates telecom app development with simple to access, fully standards-compliant media server that enables conferencing, video, recording, media interworking, and advanced cloud-scalability. Forty-eight of the world's top 50 mobile operators and nearly 3,000 application developers rely on Dialogic to redefine the possible and exceed user expectations.
Maarten Ectors, VP Internet of Things, Canonical Ltd. / Ubuntu presented on The Telecom Internet of Things – "How to enable and accelerate innovation?" Do you really want your call center to get overwhelmed with calls because a botnet just invaded the homes of millions of subscribers? Bullet-proof security, reliable updates and the enormous ecosystem at your fingertips, bringing the developer's favourite cloud platform to a wide range of internet things, connected devices and autonomous machines.

Bill Yu, Director Digital Service Business Solutions, Huawei Technologies presented on "Huawei helps telecom app developers reach 5B+ customers." Huawei serves more people on the planet through its telecom operator customers than any other vendor, roughly 5B. The reach Huawei provides for telecom application developers to go global is unparalleled. GSIC (Global Service Innovation Cloud) is a broad initiative to expand the telecom application developer community to every corner of the planet.