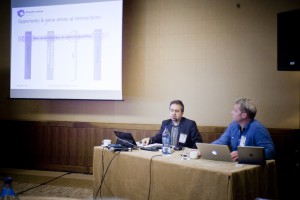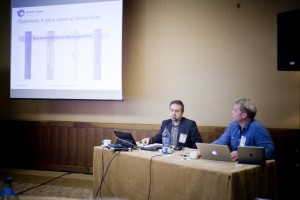 On Day 1 after lunch we ran 3 streams in parallel. This weblog reviews the work stream "Real Time Enterprise" chaired by Rob Kurver, VP Europe Cloud Communications Alliance. Presenting in this session were: Dean Bubley, Founder Disruptive Analysis; Ofer Cohen, R&D Group Leader, LivePerson; Elad Wertzberger, Technical Lead, LivePerson; Adam Kalsey, Technical Marketing Manager, Tropo Business Unit, Cisco Systems; Bill Yu, Director Digital Service Business Solutions, Huawei Technologies; Brian Hierholzer, Head Cloud Craftsman, Artisan Infrastructure; and Marc Corinth, Cloud Craftsman, Artisan Infrastructure.
Dean kicked off the work stream with a presentation on how "Telecom Technologies are Enabling the Real Time Enterprise." We're seeing a revolution in how businesses are using contextual communications for customer support/sales and in ares such as healthcare/wellness. Technologies such as WebRTC, IoT, messaging, and dis-unified comms, are similarly disrupting old business processes to enable enterprises to do much more with the their limited resources in meeting customers' needs.
Ofer and Elad followed up their excellent keynote presentation with "Implementing and Quantifying Real Time Customer Engagement." LivePerson is the global leader in intelligent online customer engagement. We will discuss in more detail the implementation of use cases for online user engagement, and quantify the impact on sales and customer satisfaction for our customers.
Then Adam face an important presentation on "Platforms not Silos are the Future of Enterprise Communications." Platforms are the future of communications. Let others extend your comms, platforms beat silos every time. Understand why this happens and what it means to the future of the real-time enterprise.
Bill presented on "Enterprise Opportunities with Huawei's Digital SDP." Huawei's Digital SDP allows operators to mine new streams of revenue by enabling openness, flexibility and strong support for enterprise business by helping them offer wholesale capabilities such as messaging, voice, virtual number etc. Enterprises can then improve their business with services such as authentication by SMS or phone; and consolidated IT & CT resources.
Brian and Marc from Artisan Infrastructure wrapped up the session with a presentation on "Delivering Reliable Telephony via Desktop as a Service." The market for DaaS is growing at 28% annually and will reach $5.6B by 2016. There are mature offerings available from multiple reputable vendors, however there is one big gap. Telephony. Lync/Skype for Business and other competitive offerings that work well on regular desktops are barely useful on DaaS. Why? This session will explore this major gap and discuss Artisan's solution.