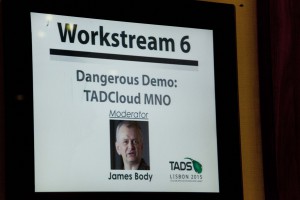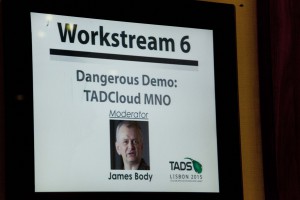 Since the first ever TADHack in Madrid last year, Dangerous Demos have become an important core theme in both TADHack and TADSummit. Their purpose is to showcase just how far technology has come given its continued acceleration. The Dangerous Demo this time includes open source billing, flexible messaging, location (GMLC) based services, authentication as a Service, USSD services, WiFi calling, Load testing/Monitoring, Open Source (Software Defined Radio) Radio Access Network – and much more. Virtually all telecom functions can now run in the cloud. This demo shows them being spun up in real time on AWS, services being demonstrated and charged for, and then the whole network spun down as loading is removed. All for just a few dollars. The Dangerous Demo is where telcos need to be, not wrapped in the pointless standards that never deliver interoperability. Just use off the shelf software and cloud infrastructure, forget about all the telco specials. I'll be adding more analysis through the coming week in this weblog.
The components shown at this demo included:
Canonical – JuJu Charms and Virtual Network Function Manager
Metaswitch – Project Clearwater and test tools
DataArt – Conferencing and Media Manipulation
OpenCell – User and Carrier Billing
Telestax – Restcomm Application Platforms and SMSC/USSD/GMLC
Apidaze – On Demand Communications
Oracle – Converged Communications Application Server
Dialogic – BorderNet, Diameter / MAP interworking function
Truphone – OpenSource Communication Framework API and assorted mobile network components
Zabbix – Real-Time Monioring and Scaling
And a list minute Canonical presentation showing the Matrix federation server being added just before the event.
We kicked the Dangerous Demo off with Artur Tyloch, showing the backbone of the Dangerous Demo, juju, which enables software to be provisioned, connected and scaled in close to real-time. Artur also explained the key features of the demo including:
Open source scalable IMS, SDP, NMS services;
How would you build telco infrastructure if you were google using containers, mesos, juju;
Adding billing capabilities and create production ready service;
Juju and containers, how to magically reduce your infrastructure cost using LXD or Docker; and
You can try this in your network next day.
Next Paul Drew from Metaswitch.
Next Michael Lazar from DataArt.
Next Sébastien Michea from Opencell.
Next Jean Deruelle from Telestax.
Next Philippe Sultan from Apidaze.
Next Doug Tait from Oracle.
And finally a last minute addition to the demo from Canonical / Matrix.