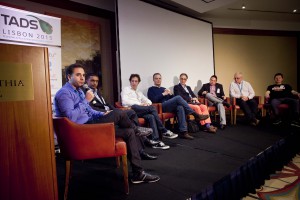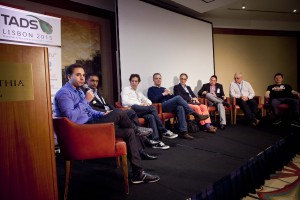 TADSummit 2015 ran from the 17-18 November in Lisbon and online. Bringing close to 200 innovators in person over the two days, and over 200 people online for each day, with some online viewers watching for 3 hours straight. An audience of close to 400 on each day. TADSummit is a chance for people around the world to share best practices and business successes in telecom app development. In this weblog provides a summary of the event and links to all the weblogs that review in more detail the sessions.
The attendees of TADSummit have changed, with 45% developers and enterprise in attendance, 25% technology providers and 25% service providers. This change is an objective of TADS in broadening the reach of telecom application development. TADS is a ecosystem, not just an event, the sponsors and partners working together to grow the telecom application development industry. Thanks to 15 sponsors: WSO2.Telco,Ubuntu, Truphone, Tropo, Telestax, Oracle, Nexmo, Metaswitch, Matrix, Huawei, hSenid Mobile, Genband, Ericsson,Dialogic, and APIdaze. And 22 new partners: CMTelecom, Opencell, Zoiper; and existing partners Tyntec, VUC,webrtcH4CKS, and Disruptive Analysis for all their help and support.
The structure of the event was:
TADSummit Keynotes: Alan Quayle, Paulo Chainho Portugal Telecom, Olivier Jeannel de Thiersant, founder and CEO of RogerVoice, Elad Wertzberger and Ofer Cohen from LivePerson, James Tagg, founder and CTO Truphone, and Werner Eriksen, VP Communication Services, Telenor Digital.
TADSummit Day 1 Morning Plenary: John Elloitt Tropo, Tony Jamous founder CEO Nexmo, Dinesh Saparamadu founder CEO hSenid Mobile, Manjeet Singh, CEO Elucit Software / Pinig presented for Telestax, and Luis Quina Borges, founder CEO, Apidaze.
After lunch we broke into 3 work streams:
Work Stream 1, Meet the TADHack Developers: Thomas Howe, Communications Service Designer, KISST.me; Ben Klang, Founder, Principal & Technology Strategist, Mojo Lingo; Antón Rodríguez Yuste, Telecom Software Engineer, Optare Solutions; Chad Hart, Chief Editor & Independent Consultant, webrtcHacks; João Trindade, Android Developer, Talkdesk; and Gloria Bueno Perea, walgreens Android Developer, MashMeTV.
Work Stream 2, Telcos Making a Difference: Sascha Wolter, Senior Manager Connected Home, Deutsche Telekom; Sebastian Schumann, Service Platform Development Expert, T-Mobile Slovakia; Grzegorz Sikora Service Platform Expert T-Mobile Poland; and Vinay Kumar, Strategic Business Capabilities, TELUS Communications.
Work Stream 3, Real Time Enterprise: Dean Bubley, Founder Disruptive Analysis; Ofer Cohen, R&D Group Leader, LivePerson; Elad Wertzberger, Technical Lead, LivePerson; Adam Kalsey, Technical Marketing Manager, Tropo Business Unit, Cisco Systems; Bill Yu, Director Digital Service Business Solutions, Huawei Technologies; Brian Hierholzer, Head Cloud Craftsman, Artisan Infrastructure; and Marc Corinth, Cloud Craftsman, Artisan Infrastructure.
TADSummit Day 1 Afternoon Plenary: Douglas Tait Oracle Communications and Enzo Amorino Telecom Italia, Paul Drew  Metaswitch Networks, Matthew Hodgson Matrix.org, Pedro Calderon Ericsson, and James Body Truphone.
TADSummit Day 2 Morning Plenary: Amos Manasseh, CMO, WSO2.Telco; Roy Timor-Rousso, GM fring Alliance; Rakendu Devdhar, Product Line Manager, Dialogic; Maarten Ectors, VP Internet of Things, Canonical; and Bill Yu, Director Digital Service Business Solutions, Huawei.
After coffee break we broke into 3 work streams:
Work Stream 4, Disruptive Developers: Moshe Maeir, Founder, Fone.Do; Martin Giess, Co-Founder, Emnify; Cyrille Manente, COO, Vivaction; Joachim Vanheuverzwijn, CTO, Securax Ltd (Zoiper); Drew Johnson, VP Engineering, Aeris Communications; and Alexis Bonillo, Co-Founder and COO, Zen.ly.
Work Stream 5, Telcos Making a Difference Part 2: KS Lau, CTO & VP Technology, Multi-Byte Info Technology Ltd.; Antonio Cruz, Software Architect & Project Manager, SAPO (Portugal Telecom); Daniel Sendin, COO, NAKA Mobile; Fernando Mendioroz, Innovation Manager, Digicel Group; Martina Saric, Service Enablers, T-Mobile Austria.
Dangerous Demo: Canonical, Metaswitch, DataArt, OpenCell, Telestax, Apidaze, Oracle Communications, Dialogic, Truphone, Zabbix, Matrix and more.
We wrapped up TADSummit 2015 with a panel discussion on the TADMentor announcement and a closing presentation from Alan Quayle summarizing the event and setting out the TADS plans for 2016.
And here is the video summary of the whole event, plus you can see the photos from the event here.