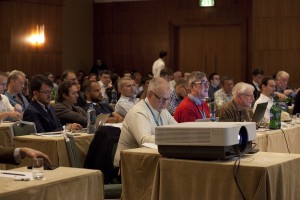 The morning plenary of Day 1 was back-to-back presentations from the people changing the face of telecoms, thanks to their APIs, platforms (open and closed source), processes, and vision. We kicked off with founding sponsor Tropo, who was recently bought by Cisco. Being a TADSummit sponsor makes you a hot property for M&A, with founding sponsor Solaimes bought by Comverse last year, TADHack sponsor Acision bought by Comverse this year, and most recently Atos Origin buying Unify (TADHack-mini Paris sponsor).
John Elloitt presented on Collaboration APIs for Enterprises, Developers, and Telcos. Tropo has joined Cisco's Collaboration Technology Group.  The Tropo you know and love remains the same, and will continue to get even better. AND with Cisco Spark ultra high-quality video and collaboration tools are available for every remote team, class room, space station and home office. With Collaboration APIs on all this stuff, the possibilities are amazing!
Next was Nexmo, with founder CEO Tony Jamous on the "SMS value chain is broken!" Check out his excellent weblog here. We ran this as a Q&A session rather than yet another presentation which was a nice change. BTW Nexmo had the best freebie in the exhibition, a power adaptor with a built in 2.1A USB charger.
Making an SMS API work is hard. Some of the challenges include: latency, especially when the carrier infrastructure starts queuing; the hub and spoke aggregation model is driven by least cost routing, not quality management; there is no method to ensure messages are routed correctly; and each market has different regulations. Oh, did I mention that the carriers' spam filters can block legitimate sensitive traffic? I'll discuss why it is critical to solve these challenges holistically to make the SMS API work and scale.
We were only able to touch upon the evolution of IP messaging on  A2P SMS. But listen to Tony's careful use of 'niche' applications for A2P SMS, while IP messaging supports broader use cases. The GSMA / Telcos continue to fail on SMS, while Tony is plugging the gaps.
Dinesh Saparamadu, founder and CEO,  hSenid Mobile, presented on the hSenid Mobile Way for Enterprise Service Innovation: Beyond APIs. Telecom APIs are good but unfortunately they don't by themselves generate lots of new services. hSenid Mobile have solved the telco service innovation conundrum. They case studied applications and products that have emerged so far with an enterprise focus.
Next was the Telestax slot, which had a customer present in their stead, Manjeet Singh, CEO Elucit Software / Pinig. This is an important evolution of TADSummit, where the customer representation is more important than the platform presentation.  We're moving from a technology bias, to a business bias.
The presentation was on "Using Real Time Communications to get the most from Tablets." Pinig are manufacturing and selling fully managed Android tablets, meeting the specific needs of groups such as children, executives, elderly, and more. Pinig are in the process of launching embedded real-time communications to better support customers. Manjeet's ultimate goal is to achieve an Amazon Mayday experience on Pinig tablets so everyone gets the most from pervasive personal computing (tablets).
And wrapping up the day 1 morning plenary was Luis Quina Borges, founder CEO, Apidaze. The market for Telecom APIs and WebRTC is in its early infancy. The challenge we face is not competition, rather education of the market. Apidaze is revolutionizing businesses with its platform. We will share how we're making a difference for our customers. Luis share ottspot at the WebSummit to help educate web-centric developers on the power of telecom app development.