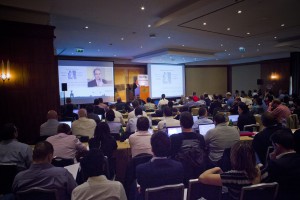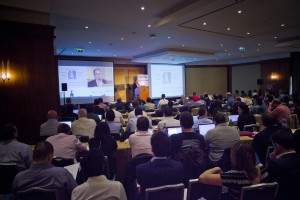 TADSummit 2015 ran from the 17-18 November in Lisbon and online. Bringing close to 200 innovators in person over the two days, and over 200 people online for each day, with some online viewers watching for 3 hours straight. An audience of close to 400 on each day.  TADSummit is a chance for people around the world to share best practices and business successes in telecom app development. In this weblog we review the TADSummit Keynotes, subsequent weblogs will review the other sessions.
We kicked off with an opening address from Alan Quayle, the founder of TADS and independent mind of the industry. The structure of attendance of TADSummit has changed, with 45% developers and enterprise in attendance, 25% technology providers and 25% service providers. This change is an objective of TADS in broadening the reach of telecom application development. TADS is a ecosystem, not just an event, the sponsors and partners working together to grow the telecom application development industry. Thanks to 15 sponsors: WSO2.Telco, Ubuntu, Truphone, Tropo, Telestax, Oracle, Nexmo, Metaswitch, Matrix, Huawei,hSenid Mobile, Genband, Ericsson, Dialogic, and APIdaze. And 22 new partners: CMTelecom, Opencell, Zoiper; and existing partners Tyntec, VUC, webrtcH4CKS, and Disruptive Analysis for all their help and support.
Telecoms has become democratized, the technology is no longer hidden in a few companies. Anyone can use it and build applications for their local community. We're reclaiming the word telecoms for everyone, and not hiding behind the euphemism of cloud communications. TADSummit and TADHack together are trying to build a $150B business for the TADS ecosystem. TADHack this year will have seen 2000 registrations and distributed over $60k prize money across all the TADHack winners including, programmers, product and design people, students, wife and husband teams, business people, etc.
Some of the trends we're seeing in telecom app development include:
Rise of the enterprise – driving bulk of telecoms innovation
Rise of the enterprise-focused service provider
Democratization of telecoms
50% CAGR in TADSummit attendance
Building telecom apps is cool, its one of the building blocks of the on-demand revolution. And we have barely scratched the surface of what is possible.
Paulo Chainho has been a supporter of TADS from the start, and provided the welcome address from the local operator Portugal Telecom. He gave a succinct review of the challenges not only telcos and developers face, but end users as well in the evolving app / services buy diazepam 5mg driven world. He highlighted a new project reThink, which is creating a new services paradigm to address these problems.
Olivier Jeannel de Thiersant, founder and CEO of RogerVoice reviewed one of the most impressive services presented at TADSummit, RogerVoice, and his experiences in building and running a business of Telecom APIs, in particular Apidaze and Nexmo. RogerVoice is on a mission to make the phone accessible to deaf and hard-of-hearing people worldwide. He had the audience enthralled with the massive potential in telecom app development.
At this point the new members of the audience realized TADSummit is something special with LivePerson showing the massive potential for telecom app development in the enterprise. Elad Wertzberger and Ofer Cohen presented on "Real-Time Customer Engagement in the on-Demand Economy."
LivePerson is the global leader in intelligent online customer engagement. The 1-800 number revolutionized the way companies connected with their customers… in 1967. Today, smart companies replace unproductive hold time and voice menu traversing with proactive contextual conversations. They discuss use cases for online user engagement that increase sales and improve customer satisfaction, enabled by Telestax.
James Tagg, founder and CTO Truphone, could not make it in person, so he used Truphone's WebRTC conferencing service to present on "New Use Cases for Truphone's World First Open Source Communications Framework (OSCF)"
At TADHack in June Truphone announced their Open Source Communications Framework (OSCF), a mobile Telecoms as a Service (mTaaS) platform, with a whole network API, providing developers with unprecedented access to the mobile network. James will provide an update on their progress and new use cases for the most radical project in the industry. When James showed the slide on the capabilities of OSCF, many people were taking photos.
And to wrap up the TADSummit Keynotes we had, as voted by the audience, the best till last with Werner Eriksen, VP Communication Services, Telenor Digital on Building a Programmable Telco Core Network. Introducing the flexibility developers want, and opening up the required APIs in a running multi billion dollar operation is not trivial. Telenor Digital has therefore built a full stack MVNO setup which from the ground up provides programmability that enables us to build products and services with internal and (soon) external developers.