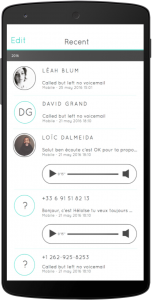 On Wednesday the 31st of August at 1000 ET we ran a TADSummit Preview with Karel Bourgois, Founder and CEO, Voxist. We're now focused on looking forward to TADSummit 2016, and will be providing previews of what's to come.  TADSummit has become The telecom innovation event in the industry, it brings the ecosystem together for a practice-focused discussion on the application of telecom capabilities. While TADHack is a celebration of developers, creativity, and telecom app development technologies; TADSummit focuses on making business with all those innovations.
Voxist is a young company, focused on making the voicemail experience better, with a vision of making a missed call an intelligent agent.  Their plans are exciting, and the way they've structured their business model and go to market is interesting, so they can address direct to consumer, through channels such as service providers, direct to enterprise, and even the traditional telco. Karel is focused on making this service an indispensable part of communications for some, not all, customers. His contention is voice will remain relevant, and with speech recognition and machine learning, the timing is right to evolve voicemail into an intelligent assistant. He will be presenting at TADSummit in the "Carnival of the Creators". The opening keynote focuses not on the sponsors, but on the people creating new value with the sponsors' technologies.
Questions Received:
What is Voxist?
Why did you create Voxist?
Why will customers use Voxist?
Is there room for another voicemail client?
What is your business model?
How are you kick-starting the business?
What are your plans for Voxist?
Do you have any partner or reseller opportunities?
TADSummit Preview