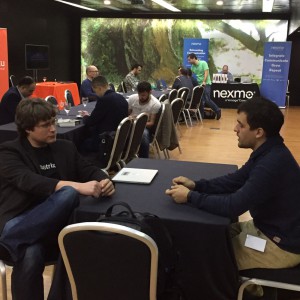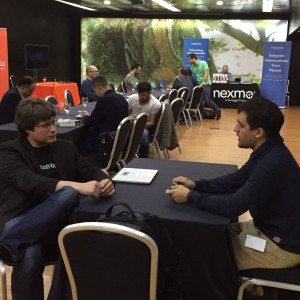 After the "Carnival of the Creators" everyone knew they were somewhere special. We had also reached peak attendance with lunch being provided. So the timing was perfect for the brain trust of our industry to present, that is the sponsors of TADSummit, in the: Sponsors' Plenary – The Brain Trust of Our Industry.
Here Come the Bots, Adam Kalsey, Technical Marketing Manager Cisco / Tropo / CiscoSparkDev. Everywhere you turn, you hear about bots. After years of the point and click interface dominating computing, are bots just a return to the 1980s command line? Can't we do better than Clippy? It's time to change your perception of bots. We'll talk about how natural language, machine learning, and advances in speech technology are driving the next generation of bots. See how you can use design techniques to create bots that fade into the background. See bots that are more than just text, and find out how telecommunications companies can participate in the bot gold rush.
Adam has a long history in bots, from his work on IMified many years ago. His funny and spot-on presentation clearly explains we're at the beginning of this automation trend. Today, most bots are poorly designed towards customers' problems. And the ways we interact with bots will be much greater than the simplistic voice or messaging experiences we know today. With for example whispers (only you hear) in conversations and multi-channel. That future is already here though with MVNO services (supported by Tropo) like RingPlus+, its just not evenly distributed.
Matrix: The future of communication is decentralised, secure and interoperable Matthew Hodgson, Technical Co-founder, Matrix.org. Over the last few years many messaging platforms have gained popularity. They offer the same basic functionality, and differentiate with better UIs/UX and the types and number of integrations and bots. However, they all have one thing in common: they don't talk to each other. In the current situation, the biggest loser is the user. It means we have to create numerous accounts across all these silos so we can keep in touch with all our contacts and not miss out on their social interaction. And in doing so we give away our data to various centralised silos, completely losing control over it. But users are also the most important thing for apps – can we make use of this power and demand a future where apps can interoperate?
Instead of joining the app that's currently where all your contacts hang out, you could instead choose the app that has the most integrations and thus be able to talk to everyone. This is the problem the Matrix team is trying to solve: Matrix (matrix.org) is an open standard for decentralised communication. Matrix can be used for decentralised group chat (with optional end-to-end encryption), WebRTC signaling, Internet of Things data transfer, and anywhere you need a common data fabric to link together fragmented silos of communication.
For me, the biggest development is the explosion of users (90k) and messages (70k per day). Its gaining traction across a number of use cases. Cooperation with IPFS and Project reThink is likely, see Stream 3 Decentralized Communications workshop, creating the core of the decentralized web. In 2017 we will use Matrix much more for communications at TADHack and TADSummit, I will just need to slowly ween myself off Slack 😉
hSenid Mobile's journey with TADHack Roshni Hewamallika, Head of Business Solutions at hSenid Mobile. For the 3rd consecutive year, hSenid Mobile hosted TADHack Sri Lanka this year. It's been an amazing journey of empowering our youth, to innovate, solving local problems through technology and Telco integration. We will share the story of our journey with TADHack, which has touched and made a difference in the lives of many people.
The partnership between hSenid Mobile and IdeaMart is the most successful I know in service innovation. Their recipe for success should have been copied and localized years ago by most of the telcos around the world. The GSMA report on IdeaMart shows 4% of Dialog Axiata's revenue comes from IdeaMart, and given the team has only recently grown from 3 to about 15 people, its margin contribution is vastly higher. To the Telcos reading this, stop wasting time with large companies whose only contribution to service innovation is some API management software and some slides. Instead partner with a company that has delivered the most successful service innovation program full stop. Sorry to be so blunt, but the failures I see around the world should not be happening.
Telestax Plenary Session Introduction by Nancy Colwell, CMO Telestax. MVNO future market survival/growth kit (or ngMVNO needs). Daniel Sendin, COO of NAKA AG & Achilles Rupf, CEO of NAKA AG. Nancy kicked of the presentation reviewing the Restcomm open source project in comparison to Hadoop and Docker. Its massive, its quickly becoming the open source telco code-base. They're the power behind many telcos today, including Twilio and TelenorDigital.
NAKA continue to add more local telco presence (Brazil, Mexico, Thailand, Denmark, Germany and Netherlands) NAKA's experiences in the finance sector, licensing, agreements with banks, eWallet, synergy between telecoms and finance. IoT project example in Brasil. NAKA's vision of Full Mobility Banking.
NAKA Mobile are a great case study of where service innovation is increasingly taking place in Telcos, with MVNOs. Their approach of being full service, of action oriented testing of new propositions rather than analysis-paralysis, is inspiring. Given the variations between markets this approach will help NAKA uncover opportunities across its markets.
Voxbone, the Power behind Programmable Telecoms in Enterprises, CPaaS Providers and Carriers by Chad Hart, Head of Strategic Products, Voxbone.  Chad reviewed their practical experiences in enabling enterprises, carriers and cPaaS providers for inbound SIP trunks and DIDs (Direct Inward Dialing) numbers, and shared exciting news on the latest in Voxbone's expanding offer.
The Network Revolution, changing how network enabled services are consumed. John Zannos, Vice President – Cloud Platform / Alliances, Canonical.  The telecom industry has been undergoing a revolution. NFV, Cloud and IoT has rapid changed what it means to be carrier. They are expected to supply services at internet speeds with carrier reliability. Moving to a software based model for network services is the only way to accelerate time to market for new services.
The ideas presented by John echo'ed throughout TADSummit. Through the Dangerous Demo, with LimeSDRs running network app stores costing just a few hundred dollars, with Vish Nandlall's keynote on Day 2, in the breakout stream 1 on New Service Delivery Options. The core of Telcos' network are being virtualized and increasingly using open source (just like the enterprise and web companies), and soon the edge will increasingly be programmable.
At TADHack we saw how Kamailio (SIP server) can be snapped, and in the Dangerous Demo at TADSummit it was packed into an Ubuntu phone and held-up well when hammered by thousands of calls requests. No other place brings together the people that can implement such functions in just a few hours, and explain the business impacts of such capabilities. We live in interesting times in Telecoms, or Telecom times they are a changin'.
At this point we broke for coffee, and prepared for the first set of break-out streams which added much more depth based on practical experience and thought-leadership. At TADSummit we don't just talk about the future of telecoms, you experience it. For example, seeing the time from idea to service (which can scale globally) being just hours.