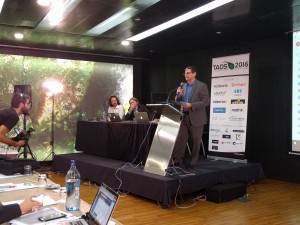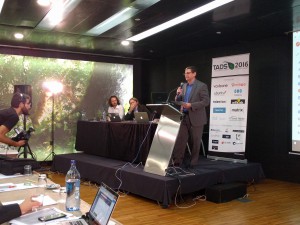 The Dangerous Demo has become a regular feature of TADHack and TADSummit. It shows to the industry what is actually possible at scale using a range of off-the shelf, open source, and new technologies. If you want to see the latest in network and service infrastructure 6-24 months before any other event, this stream delivers.
We show how powerful the sponsors' technologies are to realize a number of world-first demo running across multiple live networks, with nothing more than configuration in a hybrid cloud environment.
James Body of Truphone kicked off the Dangerous Demo, explaining its evolution from IMS in Minutes hack at TADHack 2014, through TADSummit 2014 in Istanbul, to today with the biggest and most dangerous set of demos attempted so far.
The infrastructure was a mix of hybrid cloud and mobile edge computing.
Michael Lazar, DataArt, gave three demos under a business traveller theme with a simple subscription service to the travel service options:
A network based service that intercept calls based on time of day at the location of the roamer, avoiding those middle of the night calls. This was implemented in a hybrid cloud and used network location.
TADHack winner virtual healthcare triage then showed how the traveller can remotely interact with a bot then a doctor for health concerns while roaming. Escalating from messaging to a video call.
And finally a crowd-sourced machine learning security warning service that recognizes when someone is wearing a ski mask to trigger a warning call. Again using network location and mobile edge (images are processed locally), only if ski-masked person is detected close to the traveller.
Nancy Colwell of Telestax and Tom Ngo of Lumin.ai demoed a Bank Customer scenario showing AI assisted customer interactions using SMS to Cisco Spark, SMS to Slack, and Facebook to WebRTC based video. This demo worked perfectly in all the practice sessions. But such hiccups are why its called Dangerous Demo. But it shows the power of blending of machine learning and multi-channel communications.
We then had a Small Cells demo from Lime Micro with Jimmy Chin, showing how their LimeSDR can support network based services, and we had a few LTE networks running on band 5 in the room and were able to roam between them and use ViLTE (Video over LTE) over them. Its amazing the price reduction and functionality increase in femto and pico basestations. James drops a heavy hint on the important role of a neutral host between all these private and public networks.
Elyran Kogan of Liveperson gave an impressive Bot Demo covering:
Agent Bot Demo
Adding SMS to interact with the Bot
Edit Bot functionality with a 'lame' Joke Bot and the audience uses SMS to experience the lame jokes 🙂
Michael Lazar of DataArt demoed the IXIA Test Sequence, showed in a hybrid cloud environment how IMS have be spun up and tested. Tools to test at scale are available off the shelf. This shows how services can move from concept to realization, through testing and into deployment in hours.
We tried, but failed to have a reoccurrence of Terrorist Alert as a mystery masked man (Dean Bubley) popped in, as we said at the start it was the most dangerous demo yet 😉
LOLTel (TelenorDigital) Demo by Werner Eriksen covered:
Complex transfers: answer a call a mobile phone, transfer to PC, then transfer other end to PC, and upgrade to video.
Machine learning demo, showing speech to text on a call, and posting into Slack.
IFTTT demo where we messaged Werner's number and the numbers and message content is stored in a Google Sheet.
Ubuntu Phone Challenge was a last minute addition where James Body asked a few people to hack on some Ubuntu phones Maarten Ectors, Canonical brought to TADSummit.
Daniel Mierla had Kamailio (SIP server) running on the Ubuntu phone and was doing some heavy load testing with the audience.
Nir Simionovich of GreenFieldTech showed Asterisk running on an Ubuntu phone. Created a conference bridge running on an Ubuntu phone.
Matthew Hodgson was setting up a Matrix server on an Ubuntu phone.
Maarten Ectors judged, and all the hacks got to keep their Ubuntu phones!
Sam Machin of Nexmo squeezed in a nice demo of the Watson (websockets) / Telephony (SIP) connector Nexmo has created. Which enables all the smarts of Watson can be added into calls. Sam showed a cool demo streaming voice onto a webpage using websockets and web audio.
For next year we're going to move the Dangerous Demo into the main plenary session as the break-out streams suffered given the attention drawn to the demos. The content the other streams was excellent by the way. We're also expanding the demo into 2 sessions: an Innovation Showcase (world-first showcases that are ready to go into deployment) and a Dangerous Demo (hacking and doing amazing stuff you see here).
I would like to highlight the amazing job the camera crew did in recording the Dangerous Demo. They were just reacting as the demo unfolded, they had no script, no clue what James Body would do next. So the video you see is all live edited between all the cameras and audio feeds, amazing!
And I would like to James Body and Michael Lazar (and all the DataArt team) for all their hard work in bringing the Dangerous Demo together in the lead-up to TADSummit – well done 🙂