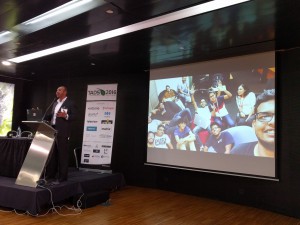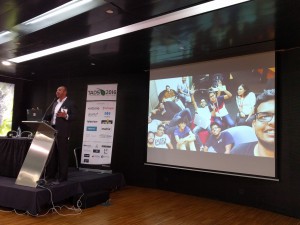 We kicked off the morning plenary with IdeaMart: Case Study in Service Innovation Success, from Shafraz Rahim, Developer Relations and Platform Evangelist at Dialog Axiata. IdeaMart is the most successful service innovation ecosystem built on telecom capabilities. It materially impacts the financial results of Dialog Axiata, it has the attention of most people in Sri Lanka as it appeals to BOTH coders and non-coders.
At TADHack, the location with the highest engagement is Sri Lanka, measured by number of registrations. How have they created and sustained such success over the years? What are the use cases? How is IdeaMart maintaining its relevance? This session is important to anyone focused on innovation in services.
Next up in the morning plenary was: Growth Hacking RogerVoice, Olivier Jeannel de Thiersant, CEO RogerVoice. RogerVoice update, making communications accessible to the deaf and hard of hearing. The past year has been an amazing story of growth for Rogervoice, its a case study the whole industry should follow. They've now created a more tailored build of their core platform to support case-by-case situations. However, they remain very much reliant on open source. This is a critical transition many companies go through. They've grown from being totally dependent on community and partners, to seeking custom solutions but still dependent on partners and community. And from that, what is next? Olivier will reveal at TADSummit.
A little French Recipe for Successful Internal Innovation in the Large Enterprise using Telecoms Philippe Vayssac, CIO Groupama There are 2 types of innovation: incremental, where an organization does the same thing better; and disruptive innovation, where new business is created. Large organizations generally struggle with the later. Philippe will review his experiences in Groupama with successful disruptive internal innovation through projects like granvillage as well as his latest project, which are all based on open source telecom software and telecom capabilities. He will explain his recipe for innovation success, and how enterprises can take control of their telecoms infrastructure and services to build differentiating customer experiences.
We wrapped up the morning plenary with "The Disruptive Curmudgeon's Status Report on Real Time Communications," Dean Bubley, Disruptive Analysis.  Twilio went IPO, Vonage bought Nexmo, Cisco grows Cisco Spark with Tropo, Apple finally joined the WebRTC party, IP Messaging platforms are now focusing on making money than just aquiring users, Matrix launched Vector; messaging, voice and video comms are popping up everywhere in apps and services. The noise and mis-information around real time communications has never been greater. Its time for a curmudgeon's view of this complex and rapidly emerging area to help separate fact from marketing fiction.