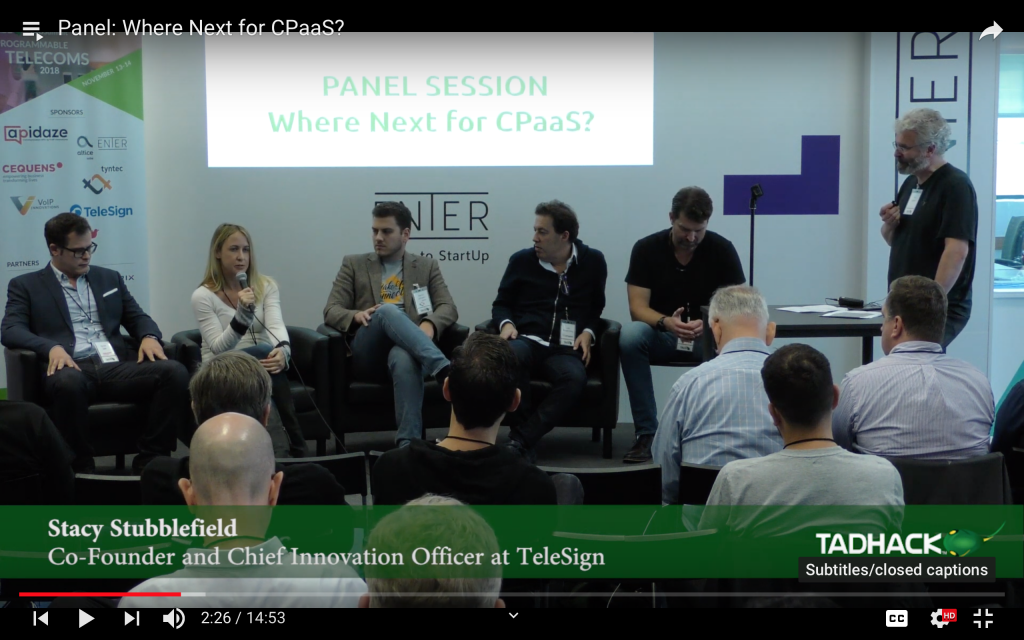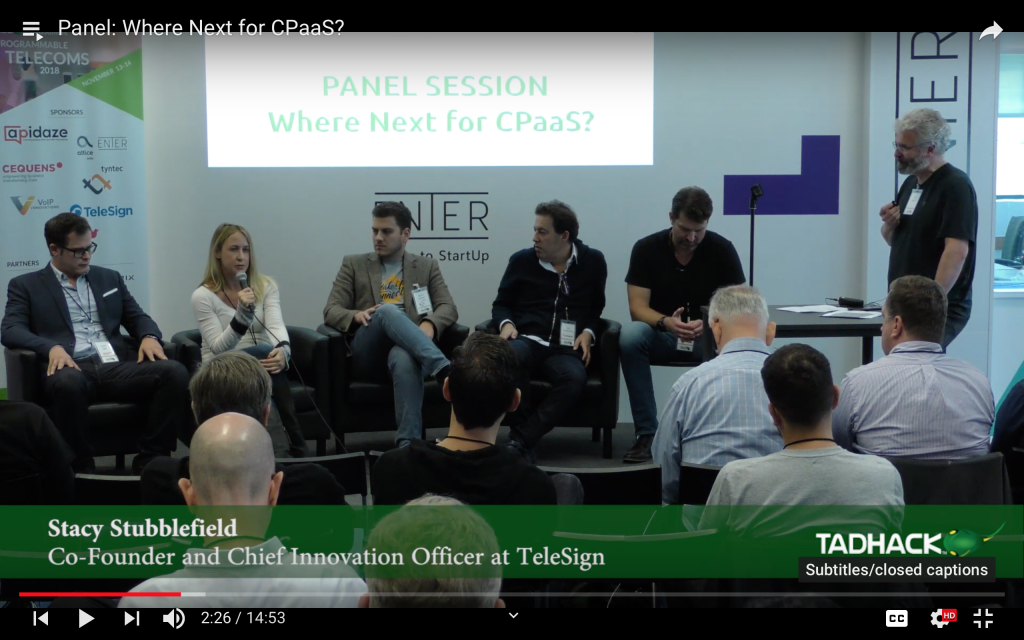 After the keynotes the new TADSummit attendees realized they were attending something quite unique. Having practitioners sharing their experiences makes a big difference. The CPaaS evolution session gave us a chance to explore some aspects of programmable telecoms around design, channels, fax, and wrap it up with a panel session.
I purposefully include Voxist and Phaxio to elicit similar reactions, "I gave up using that service years ago, therefore it is dead." It doesn't matter what you do, it matters that fax is still growing, check out Howard's presentation to see the numbers.
It matters that there are groups of people, like electrical, plumbing, and construction contractors that use voicemail intensively. Perhaps if you're lucky the General Contractor uses SMS. People's communication needs differ, hence different services matter to different people. You've got to look at the usage data not at yourself.
We kicked off with Luis Borges Quina of ottspott, previously apidaze. Luis has been with TADS since the beginning. The Apidaze and ottspott journeys have been quite interesting to watch. A key point from Apidaze is most of their customers were not looking for APIs, rather features / solutions. Hence their focus moved to ottspott to drive Apidaze usage.
Luis frankly share the many mistakes made along its development. And the big impact design had improving conversions and usage. Design / experience was much more than a bit of fashionable graphic design, it was for example using services like Clearbit so the testimonials were relevant to the person trailing. Also managing complexity away from the user was critical as they added functions.
Complexity within UCaaS is a major problem for the industry, once you get beyond some of the basic functions, or go to the management console, it feeling like the engineers were given free reign on the interface.
Now this focus on design and experience fed into their Chrome extension of ottspott connect. Its a UCaaS UI, the telecom stuff is done by whoever the business currently uses. ottspott connect delivers a slick well-designed experience on top of an old school phone system. This development I think is very interesting. Its creating a separation that I think addresses the legacy issues very well. And takes customers and end-users on an incremental journey. That can finish with the full blown ottspott, but makes the first step much easier. And is solely focused on experience, as that is all that's left.
For anyone involved in UCaaS, this presentation is well worth your time. ottspott connect is one to watch!
Karel gave a great review of his experiences in growing Voxist. He's focusing on B2B and white-label deals. CPaaS and UCaaS marketplaces are relatively new. A critical criterion for Karel in evaluating these channels is the reach of the marketplace into his top addressable segments.
We'll come back to this point in having the service engage with the right segments. Because in the limit it's about solving pain points, and if the user does not have that pain, the solution will be seen as frustrating or a waste of time.
Next was Howard, co-founder of Phaxio (bought this year by Voyant) presenting on "Enterprise Grade Programmable Fax." Faxing is nearly a $2.8B market. Some of the telcos in the room privately shared they have large sustaining revenues around fax. And supporting fax is NOT principally about fax revenues. Supporting fax well wins enterprise deals with lots of other services.
Fax is also a gateway into other business services around document management and business process management. It's about delivering complete solutions that work with today's systems. Some businesses will consider fax dead, and simply avoid those deals, or try and carve that bit out. It's a bit like the desk phone issue, some UCaaS providers ignore them or treat it as someone else's problem.
While other UCaaS providers make a point of supporting the complex legacy mess of desk phones, with the tools to help enterprises slowly migrate some employees (not necessarily all) off those expensive timepieces on their desk.
We finished this session with a panel where I asked 3 questions:
What is CPaaS to you?
Where is CPaaS going?
What is going to be important to be successful in CPaaS?
It's a great panel that shows the breadth of what people consider CPaaS, and its evolution. With multiple opinions on integration and stratification of the ecosystem. While the common theme of design, end user experience and focus on solving customers' problems echoed across the last question. After the panel, I had many in the audience come to me excited by the learning that CPaaS as so much more than some vanilla telecom APIs; and seeing opportunities in their home markets. Insights like these only come from bringing the leading practitioners together.