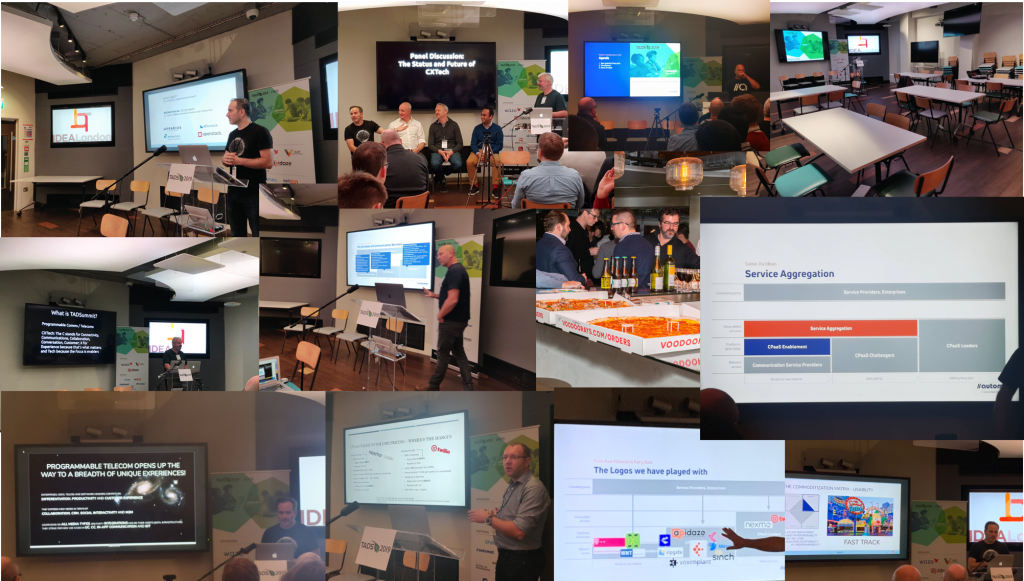 TADSummit began in 2013, focused on Programmable Telecoms (Telecom APIs back then). We get a diverse mix of people, with telcos, CPaaS/UCaaS/CCaaS providers, developers, and enterprises. The diversity and the small size (about 70 in total this year) create an insightful and fun event.
A big thank you to our sponsors Wazo, VoIP Innovations (now Sangoma), TeleSign, Automat Berlin, SiPalto for making TADSummit EMEA possible; IdeaLondon for the location; our many partners for promoting TADSummit EMEA; and everyone taking part.
I kicked off with a welcome and highlighted why TADSummit's no BS policy makes us unique. I reviewed some of the things that have happened in CXTech (Programmable Telecoms/Communications), 2019 has been much busier than 2018. My streaming laptop finally gave up, its quite old, so the first half of the morning session was captured by the back-up camera I use for just such an eventuality 🙂
The opening keynote was provided by Jonathan Grant, CEO Babl.biz and CEO Speakserve on "A Perspective on the Past, Present and Future of Programmable Telecoms." The alternative title was, "How not to build a Unicorn – a Beginners Guide."
Jonathan was a founder of NewVoiceMedia. He started work as an Investment Banker for Kidder, Peabody, and Chase Manhattan Bank from 1985 to 1993. On leaving the City in 1993, he bought his first business, Pirtek, a successful franchise operation which he sold in 2001. In 1999, he bought into Online Marketing, which became Premier Business Audio Limited, quickly growing to become Europe's leading provider of Call Handling and Business Audio Solutions.
In 2005, he recognized the synergies between Premier Business Audio and the then embryonic NewVoiceMedia, and bought into the company, which was sold to Vonage in 2018. Today Jonathan is CEO of Babl.biz, a CPaaS provider, and Speakserve is an Enterprise Software Company specializing in communications and collaboration.
The Sponsor Keynote was provided by Jérôme Pascal, CEO, Wazo. Reviewing the thinking behind Wazo, using their commoditization matrix across control, usability, programmability, and open source to explain the balance Wazo aims to achieve. This point was raised by Marten from Automat Berlin later in the morning.
They also stitching together a number of open source telecom projects to create a programmable framework to implement a number of popular enterprise communication implementations. Such as UCaaS. This stitching together of projects was an important issue raised in the open source session in the afternoon. So Wazo is addressing multiple hot topics within CXTech.
We wrapped up the first session of the morning with an active panel discussion the current status and possible future states of CXTech, with:
Jérôme Pascal, CEO, Wazo
Roland Selmer, VP Product at Nexmo, the Vonage API Platform
Abhijeet Singh, Senior Product Manager, Telesign
Jonathan Grant, CEO Babl.biz and CEO Speakserve, previously CEO NewVoiceMedia
After the break we had a session led by Automat Berlin on "Closing the Gap on Twilio."
Sebastian Schumann, Technology & Innovation at Deutsche Telekom, presented on "Challenges Consuming Programmable Telecoms from the Developer's Perspective." There's some great quantification in this presentation on the market-up CPaaS achieves compared to telco rates.
App development: I just want to make a call
Consuming APIs: It's all fine as long as you know what you want and have done it before
App development vs. Telecom App development
Marten Schoenherr, CEO/Founder at Automat Berlin GmbH presented on "Improving the Experience of Realizing CXTech Use Cases." Marten shared a vision I think is a critical necessary condition, an aggregated Telecom API that just works without all the complexity we have today. This will be reflected in comments Steve Goodwin makes at the end of Day One panel.
Addressing a gap consuming Communications Experience Technology today
Bridging a powerful open-source world with a diverse enabler ecosystem
The Automat open-source approach for rapid user-friendly CXTech going beyond consuming CPaaS
We wrapped up this session with a very active panel, so active I didn't even get a chance to ask any questions on the agenda! But I include them below as an FYI.
Panelists:
Steve Goodwin, Marquis de Geek;
Rob Pickering, Founder and CEO Aplisay;
Sebastian Schumann, Technology & Innovation at Deutsche Telekom;
Marten Schoenherr, CEO/Founder at Automat Berlin GmbH.
Questions:
Should we just give up trying to catch up with Twilio, let them dominate and overcharge?
Where should we begin in closing the gap? / Where to focus given the diversity of developer needs?
As a non-telecom / communication geek using telecom / communication APIs what are the biggest barriers in your experience?
What are the must-have things missing from most CPaaS offers in your experience?
Will CPaaS be swallowed up by Google, Amazon and perhaps even Microsoft?