TADSummit Asia Sangoma Keynote: Welcome from Jim Machi and the Sangoma Product Stack
Yes, your eyes are not deceiving you. Jim Machi is wearing his cowboy hat for the Sangoma Keynote 🙂  Well, he does live in Texas these days 😉
Sangoma has the best stocked shelves of any enterprise communication provider. Some of their strengths include, and covered in more detail at my Astricon keynote:
Stability and experience: 1.5 million unified communication (UC) seats across 150 countries;
Focused on reality of business, not the hype. Sangoma is well-aligned to the unique selling points of their partners across.
Well-stocked shelves to help partners deliver complete solutions to their customers. They not only have a CPaaS from VoIP Innovations / Apidaze, but a Showroom, so the apps created can be sold across the Sangoma ecosystem (1.5M seats);
Helping level the playing field for all the enterprise communication solution providers outside the BABS (Bay Area BS) machine; and
Custodians of the oldest, largest, and most successful open source telecoms project in the world, Asterisk. And don't forget FreePBX. Open source helps raise all boats on the open source tide, and Sangoma helps its partners make best use of all the open source telecom projects: e.g. Kamailio, OpenSIPS, Wazo, etc..
It's a great presentation that captures the breadth and status of the enterprise communication market; and equally the breadth of the Sangoma product stack. Which I mentioned is the broadest in the industry.
The diagram below from Jim's session captures the breadth of the Sangoma Stack, from the open source projects Asterisk and freePBX, through CPaaS and UCaaS, their new Meetings as a Service offer, to carrier services. This stack is important for Asian enterprises, integrators, resellers, and managed service providers in being able to package solutions at price points that can work across the diversity of markets in Asia.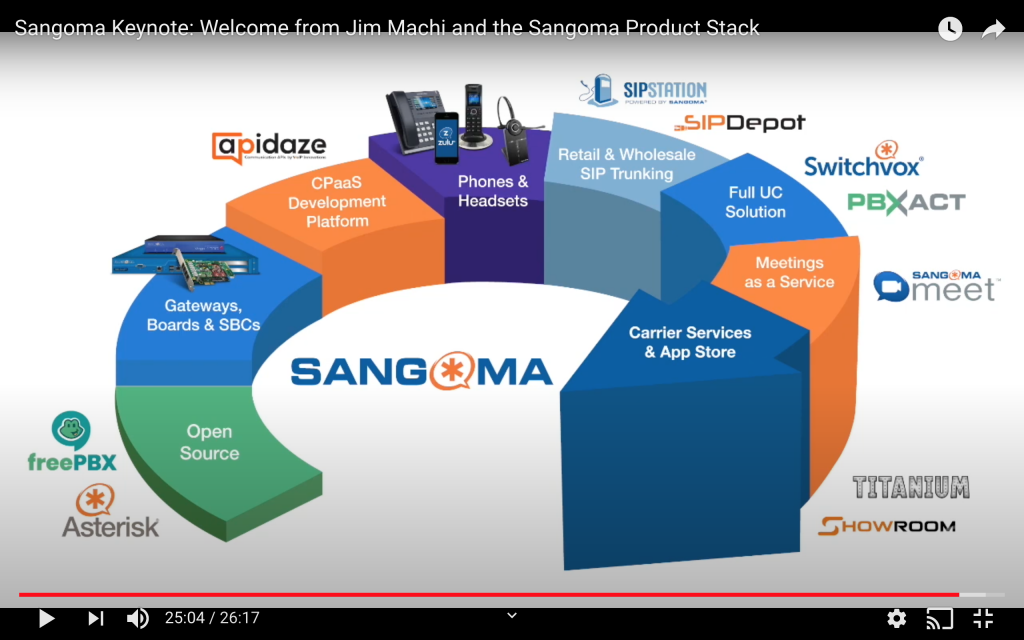 You can contact Jim here, and Sangoma here.