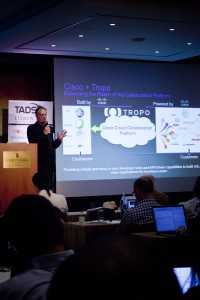 On Wednesday the 23rd of March at 1300 PT / 1600 ET we ran a TADSummit Revisited with John Elliott and Jason Goecke, previously Tropo and now part of Cisco. John presented at TADSummit on Collaboration APIs for Enterprises, Developers, and Telcos. Tropo joined Cisco's Collaboration Technology Group last year. You can view the Q&A session live or recorded in the video at the end of this weblog, or just click here. Here are the previous TADSummit Revisited sessions.
At TADSummit John made clear the Tropo you know and love remains the same, and will continue to get even better. AND with Cisco Spark ultra high-quality video and collaboration tools are available for every remote team, class room, space station and home office. With Collaboration APIs on all this stuff, the possibilities are amazing! And to top it all they just announced a $150M fund Spark Innovation Fund. The acquisition by Cisco appears to have super-charged Tropo.
Tropo / Cisco Spark are a sponsor of TADHack London, so developers will be able to hack and not only have a chance to win some of the $5k in prizes on offer, but potentially get a piece of the $150M investment fund.
Questions Received so far:
In your opinion, what is the value Tropo provides to Cisco?
What type of enterprise telecom application developers do you think will be most receptive to building on the Tropo / Cisco Spark APIs?
What type of applications are you seeing build on Tropo / Cisco Spark APIs?
What is the business model for Tropo / Cisco Spark APIs? Is it simply pull-through of Cisco's platforms?
Will Tropo / Cisco Spark create a catalog of applications? So projects can be sold across Cisco's customers? How can applications get onto the list? Will it be similar to SalesForce.com?
Who are the most active channel for Tropo / Cisco Spark APIs? Existing integrators / VARs or Telcos given their work in telecom APIs?
Can I sell applications built on Tropo / Cisco Spark directly to my enterprise customers? Or will there need to be an approval process?
What do you think differentiates  Tropo / Cisco Spark to initiatives like Huawei's GSIC (Global Service Innovation Cloud) when selling to / through Telcos?
For your Telco channels, do you think they will build apps or integrate Cisco Spark into their platforms? Or will they simply be sales channels that rely on local integrators?
What are the criteria to receiving funding from the Spark Innovation Fund?
What are the typical size of seed investments you're planning to make? What will be the terms?
For joint development how will the IPR be assigned for the joint product?
Are there any exclusivity requirements? We're (start-up questioner) looking at working across a number of enterprise messaging / business platforms with our service. We connect to competitive to Cisco platforms.
Where do you see the Tropo / Cisco Spark program in 1 and 5 years from now?
TADSummit 2015 Presentation and Slides:
TADSummit Revisited Q&A Session