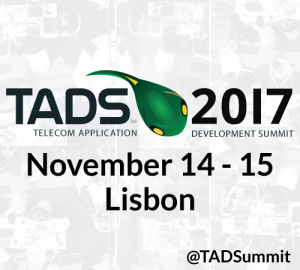 We have more new TADSummit sponsors and partners! Welcoming Genband Kandy and Partitionware! The 2017 agenda is amazing, check out the latest agenda which we will regularly update in the coming month. TADSummit is the only place to experience live world-first demonstrations, industry defining thought-leadership, and practice-based experience in Programmable Telecoms. TADSummit is sponsored by the companies leading telecom innovation, companies that live or die by delivering value to their customers through telecoms innovation.
Attending in person is best for networking and understanding in detail the demos and presentations; however, we also stream live and record the event so you can take part remotely or review what you missed later.
Highlighting a few aspects of the agenda:
Multiple live world-first demonstrations across the spectrum of programmable telecoms
Innovation Showcase led by Michael Lazar, VP Telecom, DataArt. Including multiple A2P / bot showcases across financial services and healthcare verticals using the sponsors' platforms, e.g. tyntec; achieving Amazon and Google cloud economics with Immutable Diskless Compute Pool for zero time provisioning; blockchain; VNF certification; and much more.
James Body, Telet Research, the MONEH Innovation Showcase is aimed at fundamentally changing what it means to be a mobile network operator. Its a cloud based cellular core that supports Multi Operator Neutral Host (MONEH) operation.  This means that any privately owned Radio Access Network with embedded Evolved Packet Core (EPC) will be able to accept inbound roaming traffic from other mobile network users. Programmable Telecoms is changing every aspect of our industry.
We'll have lots of other live demos using programmable telecoms including: TapToSpeak for remote Q&A during the event (no conference app just a URL); exo.expert an insurance industry drone and winner of the innovation award by the French government department of FinTec; and more demos being finalized.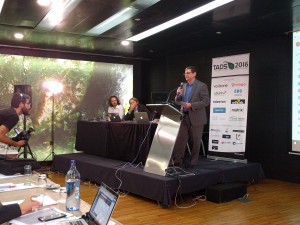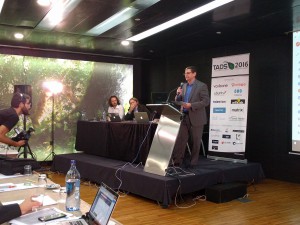 XVNO Service Success Case Studies
Ed Fox, VP Network Services at MetTel (a $350M pa xVNO) will present in the Telestax keynote session. Every year Telestax does not present, rather lets its customer speak for them. Ed's focus is Enterprise Transformation using Programmable Telecoms. MetTel's approach is a flexible and customized solution to business communications, the backbone of how businesses operate today. Ed will share how MetTel uses Telestax's RestcommOne to deliver on their approach.
Patrice Crutel, Engagement Director, Communications, Capgemini will explain the importance of CPaaS to the future of the telecom industry. You're going to hear some announcements in the run-up to TADSummit that will endorse his thesis. Patrice will explain how xVNOs (x=mobile/fixed/converged virtual network operators) are well placed to quickly deploy and make money with these opportunities using cloud computing.
Enterprise Success Case Studies
David Walsh, VoIP Innovations will present on "It's all about the services: Programmable Telecoms in the Enterprise." VoIP Innovations offers a business class wholesale VoIP network. Through an extensive network of ITSPs (Internet Telephony Service Providers) and MSPs (Managed Service Providers), they deliver programmable telecom services to enterprises large and small. We can't yet reveal exactly what the presentation will cover, but it's going to be an exciting glimpse into the future of enterprise CPaaS!
Alan Duric, CEO Wire, will share Wire's latest achievement teams.
Philippe Vaysacc, CIO Groupama, will review all their live programmable telecom solutions including exo.expert.
Utku Yavuz, Senior Collaboration Services Engineer at Garanti Teknoloji (part of Garanti Bank) will review the importance of programmable telecoms in the finance Industry and the role TADHack plays in stimulating innovation.
Engaging Developers, Secrets to TADHack Success
Chip Wilcox, CMO Temasys will give a can not miss presentation on "Marketing to Developers is Bloody Hard!" What is a developer? Why is marketing to them so hard and necessary? Chip will share his critical learning in developer marketing on a budget.
Craig Richards, Director at Clear Skies Solutions will share the secrets behind the success of TADHack Kuala Lumpur with 300 registrations, 150 attendees on the day. The quality of the hacks was better than ever, with 10 prizes being awarded to KL (both local and global).
TADHack Winners Showcase Showcasing some of the TADHack winners presented by: Janne Timonen, CEO, Apifonica; Ivelin Ivanov, CEO, Telestax; Chip Wilcox, CMO Temasys; and Ben Pinkerton, Vidyo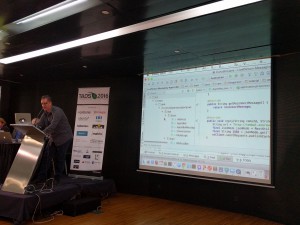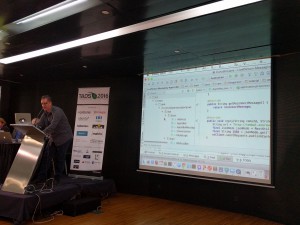 We have many more presentations and demos from Immmr, Voxist, Veeting, Apidaze / ottspott, MojoLingo, Genband Kandy, Apifonica, Disruptive Analysis, Simfony, and many more being finalized. Nowhere else will you meet the people creating the future of programmable telecoms.
Programmable Telecoms covers a broad range of technologies / concepts: contextual communications, conversational CRM (Customer Relationship Management) and BOTs (roBOTs, automated agents), machine-to-machine (M2M) and Internet of Things (IoT), telecom APIs and WebRTC, internal innovation in non-telecom industries, decentralized web / telecoms, application-to-person (A2P) comms / applications, network app stores, enterprise telecom apps, open source software, open networks, and much much more.
Telecoms is fundamental to communications between people AND things, and its now programmable, hence democratized for everyone to build upon. Its an exciting time in telecoms, with many new businesses and services being created and shown at TADSummit. We proudly use the 'T' word as Telecoms is immensely powerful.
I know corporate budgets are ridiculously restrictive to attend events like TADSummit. However, TADSummit will be 2 days with the potential to enhance your business, career and life! So much so, some people pay from their own pocket to attend as TADSummit, its that good! So make the investment in your future and register now!