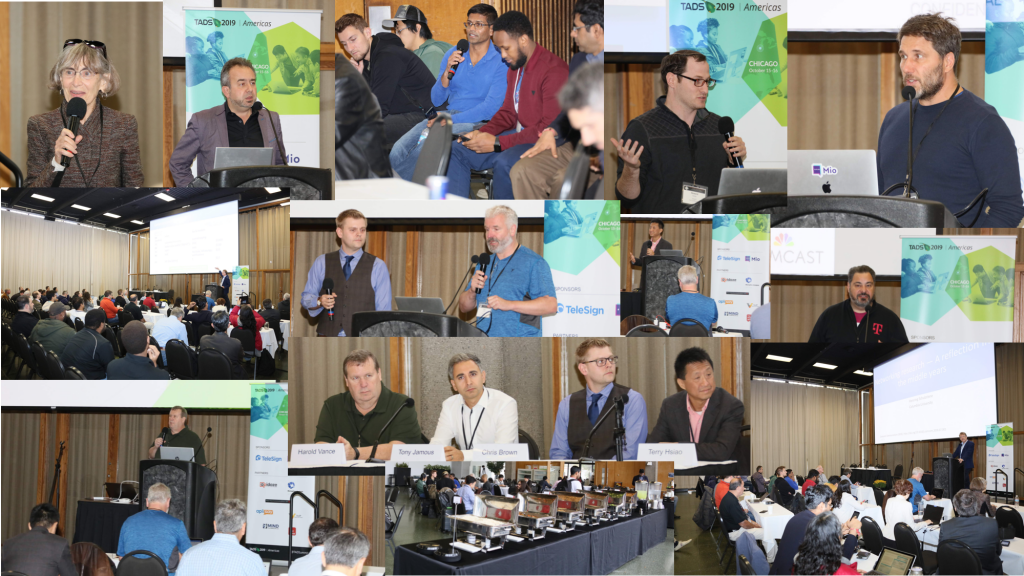 TADSummit Americas 2019 ran on the 15-16 Oct, in parallel with the IIT RTC Conference. This weblog provides a summary of the presentations and discussions from TADSummit Americas Day 2 Afternoon.
Thank you to TeleSign and Mio for sponsoring TADSummit Americas, all our partners (VoIP Innovations, Apidaze, IIT RTC Conf, IIT RTC Labs, Mind Commerce, Aplisay, The Fast Mode, Disruptive Analysis), all the world-class presenters, and both the in-person and remote attendees.
We begin the afternoon with a session focused on UCaaS, CPaaS, CCaaS Case Studies and; By the Numbers.
Víctor Sánchez Belmar, Cofounder and CEO SyncRTC and Mashme Group on "Success in Programmable Telecoms comes through Focus: Video Collaboration Case Study".
While studying at the Illinois Institute of Technology, Víctor Sánchez wanted an easy way to connect with friends and family around the world. However existing video communications solutions were either too expensive or required IT involvement and dedicated hardware.
As a result he founded a video conferencing solution called MashMeTV, which he launched commercially in April 2013. Built using an open source communication protocol called WebRTC (Web Real Time Communications), MashMeTV became so popular that more than 415,000 users from 71 countries were using the application by October 2013.
Victor will share the hard-earned experiences in moving from initial adoption success with a free service to a profitable service. Hint, it requires lots of focus
Frank Geck, Director of Customer Success, Mio on "Case Studies in Enterprise Messaging Federation." Mio powers seamless communication between Slack, Microsoft Teams & Webex Teams.
Mio's technology solves a common problem that exists within modern enterprises today: too many siloed messaging apps. Mio keeps teams in sync by enabling employees to chat directly or in groups, share files, edit messages, and more – all from their tool of choice.
We'll introduce Mio, share some of our interesting case studies, and a vision of how federation with Mio will evolve?
And a couple of presentations from me on "By The Numbers: CPaaS, UCaaS, CCaaS Landscapes and Market Sizing"
We're entering a new phase in the democratization of telecoms. Communications is now programmable, its revolutionizing the $2.2T telecoms industry. Enterprises large and small, governments, local businesses, hospitals, dentists, web companies, garden centers are all using communications in new ways improve their operations and customers' experiences. There are hundreds of companies around the world that are helping businesses use programmable telecoms.
The aim of this session is to provide an open, independent, and industry-wide review of the impact of programmable telecoms on business. We will cover CPaaS (Communications Platform as a Service), UCaaS (Unified Communications Platform as a Service, AKA virtual or cloud PBX), CCaaS (Contact Center as a Service), open source telecom software, authentication and customer experience, omni-channel customer communications, WebRTC (Web Real Time Communications) and much more reviewing the landscape and market sizes.
And one more from me on "Open Source Telecom Project Survey Results and Analysis."
We ran a survey in May/June/July 2019 to gather people's experiences and opinions on using Open Source Telecom Software Projects.
I'm often asked to comment on the different open source projects, typical implementation architectures, and answer the usual worries on availability, performance, and what-ifs. This is an attempt to provide something more authoritative than my opinions based on who I last talked to. My role here is simply as someone who has working in and promoted programmable telecoms (CXTech) for the past 2+ decades, to help us all be more successful.
Most of CXTech (potentially a $1.2T industry) runs on just a few open source telecom software projects, that are run by a few people, supported by a much larger community of supporters. It's like the global food and beverage industry (a $5T market, only 4 times the size of CXTech) was supplied out of the kitchens of a few tens of homes! A contrived analogy to highlight the immense reach made possible by open source software. But it does highlight the global significance of open source telecom software, and the importance of this survey in helping us share experiences and opinions.
Conference Keynote, Robo-calling Mitigation – Implementing the STIR/SHAKEN Framework by Chris Wendt, Director of Technical R&D for IP Communications, Comcast
As we all are well aware, Illegitimate and Unwanted Robocalling practices are at a minimum an annoyance and all too often a path to defrauding US consumers based on phishing scams that prey on those that are most vulnerable to these types of attacks. There has been a massive response by regulatory and judicial parties like the FCC, FTC, and many state AG offices as well as the telephone provider and vendor industries to help solve this problem.
This presentation will discuss some of the various ways that the US telephone network is transforming to adapt to helping consumers control their telephone experience, identify bad actors in the telephone network and block them, and ultimately with the help of SHAKEN/STIR have trust calling identity with the goal that consumers can start to learn to pick up their phones and use the telephone network again.
State of the Art in Programmable Telecoms Session with:
Todd Carothers, Chief Revenue Officer (CRO) at CounterPath on "End Point Evolution".
Softphone Endpoint: From Product to API Driven Platform.
From SIP-based endpoints to WebRTC the mobile and web are pushing the limits and forcing solutions to adapt to customers' workflow as opposed to the other way around.
This means vendors bending reality to make solutions mold to specific yet varying requirements.
However, the SIP community is becoming more silo'ed and locking customers into a single vendor solution.
How will this play out? Who will lead the charge? Who wins and who loses?
Howard Avner, Director of API Product at Voyant on "Testing your Network with Fax, yes Fax! And Other Strange Stories from the Bleeding Edge of Programmable Telecoms." Did you know fax is an excellent way to test the performance of your voice network? Surprising but true. I'll share many more interesting, and perhaps strange, applications of CPaaS.
Closing Conference Keynote, Dean Bubley, Disruptive Analysis on "TADSummit Closing Keynote: BYOSpectrum – Why private cellular is a game-changer."
The telecoms industry loves to claim that 5G will disrupt and transform industries. What it hasn't realised is that the first industry that will get disrupted is telecom itself. New local or shared spectrum bands (such as CBRS in the US), programmable cloud-based cores, eSIM and various other enablers are making it much easier for enterprises, IT companies, cities and Internet/cloud players to build their own private 4G – and soon 5G – networks.
That's not to say it's as simple as installing Wi-Fi, but for various organisations from airports to oil companies to hospitals, it's becoming a more realistic proposition. There are also various hybrids, where telcos can sell "slices" or local/enterprise MVNO deals, or allow companies to just run a separate private core network. Add in a new set of wholesale models (called Neutral Host), and the future wireless operator landscape looks very different from today.
We're seeing the democratisation of "programmable cellular networks".
Thank you to everyone who took part in TADSummit Americas 2019.