TADSummit is in its 9th year, beginning in 2013 on 21-22 November in Bangkok. Our focus remains programmable communications, and our policy still highlights no BS.
In reviewing the agenda from 2013 it's amazing how far some parts of the industry have developed. Doing telecoms in a web way has lept ahead, creating new markets worth tens of billions of dollars.
A quick, 3 minute and 30 second, welcome and intro to TADSummit EMEA Americas 2021 from me.
Day One. Week One kicked off with a presentation on Is Mobile Identity still an opportunity for telcos? Jesus Cruz Manjavacas, VAS Development Expert at PLAY. Its great Jesus is back to present after his excellent presentation last year on Programmable Telecoms inside a Telco. Jesus did a great view of the mobile identity opportunities available to telcos.
In my view, Mobile Identity is essential for telcos to implement to protect their customers. There is no choice. For many of the cloud and enterprise opportunities, I think span of control means telcos will struggle to package and sell mobile identity as competitively as the likes of Prove, TeleSign, TruID, Boku, etc. Partnering is going to be an essential part of a telcos' Mobile Identity strategy.
Day Two. How to architect your WebRTC application, by Alberto González, CTO WebRTC.Ventures, & Arin Sime, CEO/Founder at WebRTC.ventures and AgilityFeat. Alberto and Arin have worked on WebRTC for as long as I've known them. Whenever they take part in TADHack, I know we're going to see some world-class hacks with real-world potential.
The insights on scaling WebRTC are excellent, I agree on the benefits of using both MCU (Multipoint Control Unit) that handles mixing of video/audio streams in a central server so each participant only has one stream to deal with. And SFU (Selective Forwarding Unit) where each participant only connects to the SFU, but receives unique streams for each participant.
This supports many capabilities such as interconnect to the PSTN for voice, yet many people still use voice for conferencing. Support for streaming of the conference, as well as connection to mobile devices. The use cases reviewed are great, especially the 'things to consider sections' that can only come from years of experience.
Day Three. This is the 'Alan thinks this is important' keynote on Data isn't just valuable, it's going to save the planet! Miles Cheetham, Co-Chair Open Energy Steering Group. The hook for including this keynote is the relevance of open data to open telecoms. However, the findings of Miles work on open energy are far more important.
Miles provides an insightful, thought-provoking, and uplifting presentation on the importance of open data in potentially reaching the net zero 2050 goal. And I also reference some of the old TADS people and the work they are doing that's relevant, e.g. Jose de Castro from Mapped.
Day Four. APIBAN: Protecting you from unwanted SIP traffic. Fred Posner, Senior VoIP Engineer, VoIP Consultant, LOD Communications. Fred has been working on open source VoIP since the beginning, over 20 years, he is active across many projects, including Kamailio. He runs through some examples to show how easy APIBAN is to use, integrate, and it's all free! There's no reason you shouldn't be protecting your VoIP services with APIBAN.
Day Five. ayoba: a case-study of an operator-led OTT initiative from Yusuf Kaka, Head of Technology, ayoba. Eero Tarjanne, Head of Business and Ecosystem Development, ayoba.
ayoba is a supper app, covering messaging, voice, video, and a 3rd party ecosystem of content, games, music, financial services, and more. Its powerful because the data is zero rated, it bridges the digital divide as citizens always have access to its services.
ayoba, like MoMo, is kept at arm's length from MTN. In fact MTN are looking to IPO or spin out MoMo as its become its own force in the market. A great example of telco innovation success, it is possible, just focus on doing telecoms in a web-way.
Yusuf reviews their ecosystem, see below, this is an opportunity for the XaaS providers involved in TADSummit. Several of the brands in the diagram below have sponsored or been involved in TADS over the years. And he finishes on why a developer ecosystem matters. For me the bottom-line is its the only way to discover the local services that matter and will differentiate ayoba from the internet giants.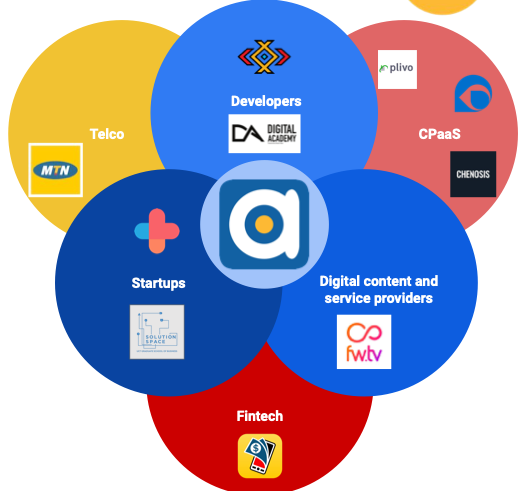 Thank you to our sponsors for making TADSummit EMEA Americas possible:  AWA Network, Automat Berlin, STROLID, Radisys, GoContact, Broadvoice and Telnyx.