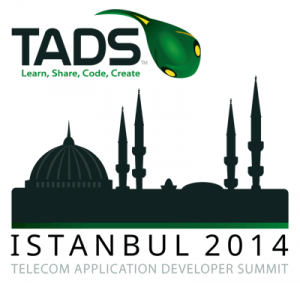 The TADSummit agenda is packed and unique. Telcos, technology providers and developers from around the world are coming together with a focus on success to build the telecom application development ecosystem. The financial numbers of most telcos show service innovation is no longer a nice 'marketing sheen' applied to the same old network investment. Its business critical, and its a unique mix of fast-paced technology and business leadership. The winners in the emerging ecosystem are not clear, but those involved in TADSummit are likely to come out on top from the insights shared and generated through two intense days in Istanbul 12-13 November.
The keynotes are impactful and strategic, hitting on key points facing our industry. Mohd Khairil Abdullah, Group Chief Marketing & Operations Officer of Axiata Group will focus the the simple numbers motivating immediate action on service innovation and the challenges telcos face on delivering that action. Vish Nandall, CTO Telstra who as a unique perspective across vendors and telcos, will focus on Business Model Alignment across the TAD Ecosystem.
Anthony Rodrigo Group Chief Information & Chief Digital Services Officer Dialog will share the secrets behind Dialog's IdeaMart success. TADSummit is not just about traditional telcos. Roy Timor Rousso CEO of Fring will share his experiences on the The Life of a New Communications Service Provider, it isn't easy and his experiences provide important insights on service innovation opportunities.
James Tagg founder and CTO Truphone, will share the Services Vision of a Global MVNO / Online Service Provider (OSP). This could be the most disruptive thing the industry has seen. We have a couple more keynotes awaiting final confirmation, expect the keynote session to be dynamic and thought provoking. None of the usual industry boilerplate, all the CxOs are pushing the boundaries of service innovation, and are demonstrating the importance of TADS through giving their time.
TADSummit is then divided into case studies and work streams. The case studies are kept to the point so you understand the lessons quickly with a balanced perspective from both technology providers and customers. We'll have a range of customers, of course telcos, but also businesses using telecoms to deliver unique experiences to their customers like Evaneos and Sinch. Venura (Dialog Axiata) and Dinesh (hSenid Mobile) will kick off the case studies going into more depth of the realization of the success Anthony described earlier with IdeaMart in working with third parties. Then Patrice (Bouygues) and Mark (OpenCloud) will review the importance of internal innovation with a case study on B.Duo. Service innovation comes from all aspects of a business, internal, partners, third parties and customers. Through TADSummit we will be showcasing all these aspects.
Jose (Tropo) will be showcasing their thought leadership on the Telephony of Things, one of the areas telcos can add value across the excessive hype we've seen in IoT. This is an important point with TADSummit, its not about repeating the weak-minded marketing drivel that plagues our industry. Its a chance for all the people working at the bleeding edge of our industry to come together, compare notes, and help build the TAD ecosystem. Mac (Huawei) will review the progress Huawei has made in building their service innovation ecosystem. He's been working hard at the bleeding edge of the industry and brings many insights on the challenges and solutions to getting innovations to market. This hard won experience is one of the reasons he's leading work stream 1 on 'Go-to-market recommendations for enterprise services.'
Jean (Telestax) will share a new marketplace they created on Restcomm, which provides and interesting channel to market for new services through telcos. And we wrap up the first case study session with our only telco-only case study from Giles Corbett to share his secrets on Orange Libon's success and how other operators can take advantage of Libon.
We have lots of breaks through the day. We do start early, 0730, so you can grab breakfast, see the exhibition, and network. At TADSummit last year people found the breakfast networking provided a great start to the day. We had challenges getting people into the conference as they were so engrossed in their conversations. For the networking we are going to be more structured this year, last year we tried to keep it more informal and lightweight, but we'll be running speed networking so everyone gets a chance, albeit briefly, to chat with most people at the event.
After lunch on Day 1 we then break into 3 work streams, see below. You can see the kick off discussions by clicking on the links. This gives us a break from the back to back presentations, and will enable us to deep dive into specific topic areas. Much detail will be added to these sections as we're taking feedback from the industry on their structure and content.
Then back to a series of more enterprise focused presentations. Sebastian (Orange) and Doug (Oracle) will be sharing their experience in using communication capabilities to enhance business applications. Then Kent (APEX Communications) will review their work in cloud based enterprise solutions. Juan (Comverse, previously Solaiemes) will show case the use of RCS for CRM. Put simply, if a telco can not eat their own dog-food on RCS, then how can they expect their customers. And we wrap up with Yvan (Evaneos) and Luis (Apidaze) showing the real-world application of communications to businesses. In my experience, telcos have struggled to to take to market new communication services. Telcos have much to do if they are to really harness their channel to market advantage. This is being explored in work streams 1 and 5.
We wrap the day off with a drinks reception, and exhibition. You'll have 5 hours through Day 1 for the exhibition and networking, and you'll need it as there are close to 20 stands with multiple partners within the stands, most of the industry focused on telecom service innovation is coming to TADSummit.
On Day 2 we kick off with more case studies. The Ubuntu guys develop the IMS in minutes story (Ubuntu, Metaswitch and Telestax) we demonstrated at TADHack with James (Truphone) and their work with OpenCloud. Frans (Ericsson) will be sharing thought leading work on identities they've been running with several telcos. Hugh (Voxbone) and their customer Sinch will share their experiences in building a global API. Alex (Nexmo) and Roy (Fring) will share the importantceof telecom APIs in creating unique world-class experiences. And we wrap-up the case studies with the 'new guy on the block' Shango on their work in closing the innovation gap as APIs are not enough.
We then break into 3 work streams, see below. You can see the kick off discussions by clicking on the links. Attendee will be invited to select which streams they want to be part of. This gives us a break of back to back presentations, and will enable use to deep dive into specific topic area. Much detail will be added to these sections as we're taking feedback from the industry on their structure and content.
Work Stream 4. Innovation in legacy consumer services. Led by Dean Bubley.
Work Stream 5. Processes for successful new service commercialization. Led by Alan Quayle.
Work Stream 6. Reviewing how TADHack can create a service innovation pipeline. Led by Mark White.
And to wrap up Andy (Comunicano) will lead a wrap-up discussion on the future of telecom app development and commercialization. Its a rapidly developing field, with WebRTC putting more power into the hands of developers. Go-to-market struggles, a continued focus on network technology as the answer for any problem, and all the work stream topics. There's $100B to play for as voice and messaging commoditize.
In the TAD Manifesto we highlighted the importance of publicity, this means to all the customers of technology providers your support is essential to the success of the vendors you've chose, so get out there and support them. I know internal politics and arbitrary budget cuts makes travel challenging, but we're focused on a critical topic that remains vastly underserved yet critical to future revenues and margins, the telecom application development ecosystem. We need your support!
And on a final note, all this would not be possible without the TADSummit sponsors: APEX Communications, Apidaze, Ericsson, hSenid Mobile, Huawei, Nexmo, OpenCloud, Oracle, Shango, Solaiemes, Telestax, Tropo, Ubuntu / Canonical, and Voxbone. The TADSummit partners include Dialogic, Metaswitch, Truphone and Tyntec. And the many people helping promote and raise awareness to what we are trying to do.