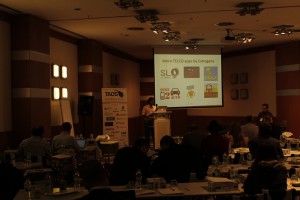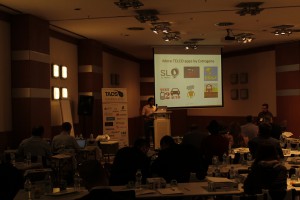 In bringing so many innovators together in one place, it would be a great shame to not get them sharing experiences and working on solving specific problems facing the industry. So we put into the agenda 6 work streams, the 3 on Day One covered:
Work Stream 1. Go-to-market recommendations for Enterprise Services. Go-to-market remains a critical barrier to service innovation success. Through a series of case studies and facilitated group discussions this workshop will produce a series of recommendations and actions we need to take as an industry to solve the go-to-market challenges.
Work Stream 2. How do Telco and Vendor Ecosystems work together. There is a dynamic tension between the telco, technology / ecosystem providers and service innovators. Through a series of case studies and facilitated discussions this workshop will produce a series of insights, recommendations and actions to achieve a vibrant and profitable telecom application developer ecosystem.
Work Stream 3. Telecom Application Developer Showcase. Showcase for telecom application developers to show their creativity from demostrators to fully fledged and deployed products.
We were planning an IPR (Intellectual Property Rights) work stream, as increasingly applications that combine telecoms and the web attract patent trolls. However, we were not able to get an IPR lawyer to join us in Istanbul; which is essential given IPR law rarely follows fairness or common sense, hence their guidance is critical. Instead we ran a developer showcase, which proved very popular. This gave a chance for the TADHack winners, Huawei Global Service Innovation Ecosystem partners, and others to pitch their ideas and wares.
It's Not About the Minutes: Adapting Telecom to a Changing Marketplace. Ben Klang, Chief Technologist, MojoLingo
As the price of voice minutes becomes zero, it is now important for telcos to work with partners to create bundles of services that meet specific segments' needs, he quoting examples such as truphone and ringplus.  Ben highlighted the importance of creating a platform for innovation, externally and internally.  And the unique services telcos can deliver because they control the media path, so can offer unique in-call applications .
Re-inventing Value Added Services for MNOs. Chris Bourlis, Director of Applications and Services, arx.net
arx.net is one of  of Huawei's global service innovation ecosystem partners.  They offer a range of applications focused on consumer segments telcos can easily address.  Chris provided a nice complement to Ben's presentation in showing specific services telcos can and are offering today.
Telcos & Mobile Developers Ecosystem – Challenges & Learnings, Sally Wahba, CCO Tawasol IT
Tawasol IT is one of of Huawei's global service innovation ecosystem partners. They offer a range of applications generally targeting consumers in the Middle East.  They highlight the importance of working with local and regional partners to deliver content and application that works in specific regions.  Tawasol reviewed the factors of success in collaboration between Telco & Developers through number of success stores and case studies.
From Yesterday to Tomorrow: Traditional Combined with Cutting-Edge Application, Luca Pradovera, Voice Application Developer, MojoLingo
Luca provided some simple case studies to clearly explain the importance of voice in communications.  Its a fundamental of the human condition.  And then went on to show how contextual communications can facilitate communication within organization by accessing company knowledge from previously silo-ed systems.  We're going to look at using contextual communications in the online speed networking for TADSummit 2015.
Open, distributed, real-time communication. Matthew Hodgson, co-founder Matrix.org
Matrix comes from the realization that VoIP and IM fragmentation is holding back the whole industry.  Its an open source project started in September 2014 focused on creating and managing fully distributed (eventually consistent) conversations with no single points of control.
They publishing a simple HTTP API standard for federated VoIP (WebRTC), IM and generic messaging.  It defines client-server and server-server APIs (and soon, server<->application-server APIs). And provides Apache-Licensed reference implementations of the server and clients (web, iOS, Android, Python, Perl…).  It had the attention of many developers attending TADSummit, so is one to watch.
The rapidly changing environment for telco application developers, Mark White, CEO Locatrix
Mark brings a vast wealth of experience in telecom application development.  He shared some of his experiences in managing and creating sustainable models for commercialization of telecom applications.  Mark also provided the mobile feedback and survey solution, mPoll.me, we ran through TADSummit.
Will WebRTC applications remove the dialtone? Rob Pickering, CEO ipcortex
WebRTC applications can interact with telephony to "upgrade" or augment.  Or will E.164 numbers and simple audio for universal connectivity become irrelevant? Rob points out both models will exist, the key is to not follow traditional web and telephony models, and instead use communications within the intuitive flow of an experience. Just like web services and devices today require no training, you simply use it because its obvious, so successful embedded communications and telecom applications can follow this model. Finally, obvious 3-way calling 🙂  You can see his animated presentation on prezi here.
Video coming soon
TADHack Sri Lanka Winner Extrogene, Ruwan Dissanayaka, Founder and COO, Extrogene
Ruwan was one of the TADHack winners, Offerhut is a pull advertising platform, a one-stop-offer-platform for enterprises to advertise their offers, and for consumers to query the available offers.  Ruwan also shared other applications Extrogene has developed.  It was a great demonstration of the creative power telecom application developers have to offer.
Work Stream 1 and 2 Summaries
Mac Taylor provided a summary of work stream 1, Go-to-market recommendations for Enterprise Services. The work streams had the same format of a panel session, followed by work tables addressing specific questions.  You can consider them to be group theraphy sessions; or an extended panel with audience involvement; or simply a chance to consolidate the learning from all the presentations earlier in the day.
Summarizing just a few of Mac's points.  The two core problems were seen as "enabling service innovation within a telco organization" and then taking those services to market, go-to-market.  Within the telco organization the issue of KPIs (Key Performance Indices) was highlighted, so even though at an individual level people understand the need for service innovation, at an organization level the KPIs enforce financial metrics, which means service innovation never really gets a look-in.  This reminds me of a weblog I'm currently drafting entitled, "Your strategy isn't what you say it is."
Two areas seen as worth more study are in using customers to drive new services in solving their business problems.  Sacha Wolter (DT) and Dirk Rejahl (Bearing Point) gave an inspirational presentation and demonstration recently on how to engage business customers and other industries on the value telecoms can deliver in solving problems they face.  Unfortunately Sacha could not make it to TADSummit, else I would have had him giving a class on his workshop method.  The other area was how within business as usual permission can be given to innovation, this is a much larger problem than just KPIs, and we'll be coming back to that in work stream 5.
I summarized work stream 2 on "How do Telco and Vendor Ecosystems work together."  The first point is there are many different types of ecosystem.  For example, Grzegorz Sikora from T-Mobile Poland described their local SI ecosystem, where those developers work across all telcos in Poland, creating a strong Polish development ecosystem, generally building telco branded services.  This model has dropped application development costs by 70%.  Ventura reviewed the great success they have with engaging 3rd parties (long tail developers) in Sri Lanka, and how they also engage trusted SI partners in a similar model to Poland.  So Telcos can and are running small focused developer ecosystems.
Looking to the aggregators, such as Tyntec and Nexmo, their focus is on B2B and supporting their customers' needs.  Telcos also deliver in this segment though generally where the need is specific local and established relationship is critical to the business customer.  Though not a 'developer ecosystem' it is an important segment for telecom enablers that are consumed by developers within businesses.
A key point raised is the go-to-market chasm, where telcos offer enablers, who then expect developers to build application, e.g. Healthcare, and they both look at each other on who takes it to market.  Some telcos have deep domain knowledge in verticals such as Banking.  This enabled them to sell services, as in the limit whoever sells the services will take the loin's share of the revenue.  So Telcos need to clearly identify which domains they will go-to-market, and find local partners for the rest.