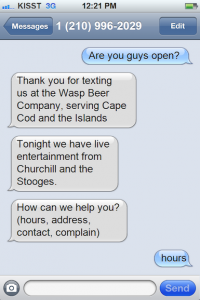 To address the area for improvement in enabling  more discussion and Q&A on the presentations given during TADSummit. We are running weekly "TADSummit Revisited" Hangout OnAir sessions every Wednesday. We kicked off with Thomas Howe, his presentation and slides are shown below, as well as the OnAir session at the end of this weblog was broadcast live on Wednesday the 6th January at 10AM Eastern US time.
Please email any question you have, if you'd like to join in the hangout you're more than welcome, just email us. Thomas has not only created an impressive service, KISST.me, he is also creating an exciting open source project, a BOT server, managing all the operational complexity necessary for a modern BOT to operate such as session management, address mapping, scaling, platform integration and storage. This initiative has the potential to revolutionize communications in many scenarios. We'll be exploring that through this Hangout.
BOTs are becoming increasingly popular, especially over SMS. One of the winners from TADHack Paris in December was "just-text.us" by Vince Puglia with an SMS based CRM app.  In 2016 we're likely to see many more implementations. Thomas's experience in building such BOTs over the past 3 years will provide important insight.
Some of the questions asked included:
What are the main BOT use cases you think will  dominate in 2016?
What is the name of your open source BOT server project? Where can I find out more information?
Why do you think people will adopt the open source BOT server project rather than build their own? What are the barriers / problems that make this open source project viable?
What do you think about combining AI such as IBM Watson into BOTs? When does it make sense to use that, rather than simple scripts?
Which industries do you think will adopt such BOTs?
Can SMS CRM win against 'app' aggregators such as WeChat and Facebook's plans?
The green-bot project is is available on Github! Please contact Thomas if you'd like to get involved in his project 🙂