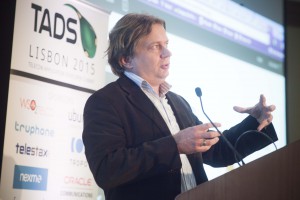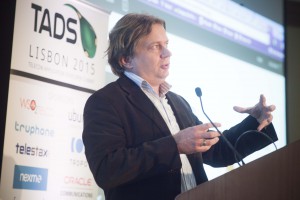 On Tuesday Feb 2nd at 10AM EST we ran a Dangerous Demo TADSummit Revisited Part 2 with Canonical, Apidaze, and Telestax. You can view the session at the end of this weblog, or just click here. Since the first ever TADHack in Madrid 2014 year, Dangerous Demos have become an important core theme in both TADHack and TADSummit. Their purpose is to showcase just how far technology has come given its continued acceleration. The Dangerous Demo at TADSummit in November 2015 included open source billing, flexible messaging, location (GMLC) based services, authentication as a Service, USSD services, WiFi calling, Load testing/Monitoring, Open Source (Software Defined Radio) Radio Access Network – and much more. Virtually all telecom functions can now run in the cloud.
Its one of our longer Q&A sessions, but its well worth the time to understand how the technologies and companies in the Dangerous Demo are creating a revolution in telecoms.
The components of this dangerous demo are shown below. For Dangerous Demo Revisited Part 2 session we will be doing a deep-dive question and answer session with:
Artur Tyloch of Canonical,
Philippe Sultan of Apidaze, and
Jean Deruelle of Telestax.
Canonical – JuJu Charms and Virtual Network Function Manager
Metaswitch – Project Clearwater and test tools
DataArt – Conferencing and Media Manipulation
OpenCell – User and Carrier Billing
Telestax – Restcomm Application Platforms and SMSC/USSD/GMLC
Apidaze – On Demand Communications
Oracle – Converged Communications Application Server
Dialogic – BorderNet, Diameter / MAP interworking function
Truphone – OpenSource Communication Framework API and assorted mobile network components
Zabbix – Real-Time Monioring and Scaling
And a list minute Canonical presentation showing the Matrix federation server being added just before the event.
You can see Artur, Jean and Philippe's presentations and slides below.  We do not yet have any questions, so please email them in.
Artur – Would you describe some juju deployment cases?
Artur – What does it take to juju charm an application? How much effort is required?
Artur – What is the future of juju? How does it relate to NFV (Network Function Virtualization)?
Jean – What was your experience in juju charming Restcomm?
Jean – What benefits does juju charming Restcomm bring?
Jean – What are the latest updates on Restcomm?
Philippe – In creating Widget4Call for the cloud, what are the important considerations to run successfully in the cloud?
Philippe – OTTSpot won much attention at The WebSummit, what are some of the challenges you faced in creating this service?
Philippe – Where is Widget4Call deployed?
All – what's next for the Dangerous Demo?
Artur Tyloch, showing the backbone of the Dangerous Demo, juju, which enables software to be provisioned, connected and scaled in close to real-time.
Jean Deruelle from Telestax on Restcomm Application Platforms and SMSC/USSD/GMLC
Philippe Sultan from Apidaze on On-Demand Communications
Here is the Dangerous Demo Revisited Q&A Part 2 with Canonical, Apidaze, and Telestax.