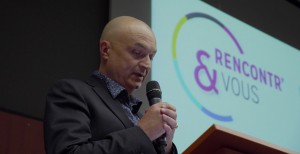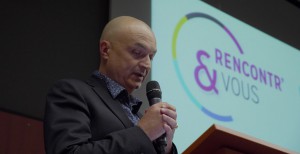 On Wednesday the 24th of August at 1000 ET we ran a TADSummit Preview with Philippe Vayssac, Chief Innovation Officer, Groupama. We're now focused on looking forward to TADSummit 2016, and will be providing previews of what's to come.  TADSummit has become The telecom innovation event in the industry, it brings the ecosystem together for a practice-focused discussion on the application of telecom capabilities. While TADHack is a celebration of developers, creativity, and telecom app development technologies; TADSummit focuses on making business with all those innovations.
At the WebRTC Global Summit this year I met Philippe who presented a case study of granvillage, which uses Avencall / XIVO as the telephony core. A social networking tool for small businesses in France, provided by an insurance company – France is often a special case. They used WebRTC ONLY from tablets as they could assume the video and audio would be set-up correctly. While the industry gets all excited about Apple finally admitting to working on WebRTC, no surprise there. The reality is most desktops are not configured for communications, hence the real-world compromises needed so things just work for end users.
In this TADSummit Preview we reviewed his experiences with successful internal innovation through projects like granvillage as well as providing a teaser of Philippe's latest project, which he'll present at TADSummit. It will a video version of this Groupama innovation. We also recommend you check out this book, based on some of Philippe's innovation experiences "A Manager's Guide to Disruptive Innovation: Why Great Companies Fail in the Face of Disruption and How to Make Sure Your Company Doesn't" by Philippe Silberzahn.
Questions Received:
Why did you create granvillage?
What impact has granvillage had on your customers?
What is Groupama's business case for granvillage?
Do you plan to expand the use of WebRTC to devices other than tablets?
How did you manage to convince your executive team to invest in granvillage?
What are the innovation principles that you used in your company?
In a recent presentation you mentioned the importance of Effectuation, could the explain a little more?
Would you please provide some clues as to what you're currently working on and you will hopefully present at TADSummit in November?
TADSummit Preview