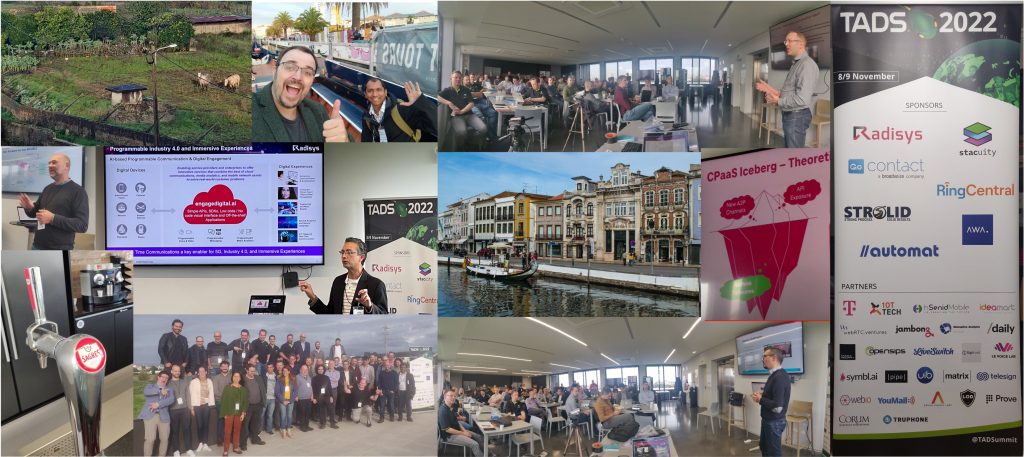 Here is a brief TADSummit 2022 summary. In the coming weeks I'll write more detailed summaries, focused on the main themes. As well as a few additional presentations that didn't make it into the agenda, e.g. from Dave Horton on "Why many conversational AI providers are ditching commercial platforms and moving to open source — and why you should too!"
Being in-person for a no-BS share on the latest in programmable communications / telecoms was a delight. 90% of those attending knew they'd had COVID, about 20% knew someone who had long COVID. Life is more or less back to how it was in 2019, though we have a new endemic virus.
Thank you to STROLID, Broadvoice / GoContact, Radisys, RingCentral, Stacuity, and AWA Network / Automat Berlin for sponsoring TADSummit 2022. Their support is critical for this event to take place. And thank you to all the presenters and attendees in making the event excellent.
Here's the content:
In 2019 Joao Camarate offered GoContact's HQ in Aveiro as the location for TADSummit 2020. And finally after a 3 years wait we made it happen in 2022. For TADSummit 2023 we're seeking a sponsor to host, that is provide the location and meals. Please get in contact if you'd like to host, thanks.
We had both online and in-person presentations. In-person presentations better engaged the audience, and more importantly enabled detailed one-on-one questioning. The real world is complex, a presentation gives a simplified story to be clearly understood by the audience.
However, during the lunch and networking dinner more frank and detailed discussions take place. Online events can not deliver that. However, TADSummit is a relatively small event, about 50 people this year, so remote presentations from Asia and the Americas are an important part of TADSummit.
Feedback from the attendees included excitement at all the emerging opportunities in programmable communications. We covered several topics that had received extressive hype in the past, e.g. IoT and eSIM. However, are now entering the early mainstream phase, where existing businesses can augment their offers with them.
Just a quick review of the highlights from the keynotes:
Lots more analysis of all the TADSummit content coming soon.