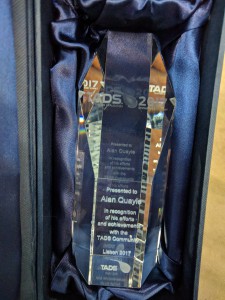 This weblog provides an overall review of TADSummit 2017, sharing highlights and insights shared during two intense days in Lisbon (14-15th Nov). We review the individual presentations (sharing the edited videos, slides, and brief commentary) across these weblogs:
The TADSummit 2017 agenda is here, it is the telecom service innovation event, in its 5th year. Bringing the programmable telecoms industry together to share insights, best practices, and help build an open global ecosystem. Across those 5 years we have 10 people who have attended every year. Mark White, Locatrix, is one of them who had one hell of a 2017, yet made it all the way from Brisbane Australia as a stretch objective in his recovery, well done Mark! Andy Smith was in hospital during TADSummit, yet was able to take part remotely during the MONeH (Multi Operator Neutral Host) showcase from his hospital bed; I think that's a first to be proud of 😉
TADSummit 2017 was made possible thanks to sponsorship from: Apifonica, DataArt, Kandy / Ribbon Communications, Telestax, Temasys, Tyntec, VoIP Innovations, Wazo. And the support of partners including Apidaze, Cap Gemini, Locatrix, Partitionware, Protocol Labs, Telet Research, VUC, and many more. You can see in the closing panel, we've created an open and friendly ecosystem focused on growing programmable telecoms. And because everything is published: the agenda, slides, and edited videos; you can see the thought leadership demonstrated every year.
While the first TADSummit in 2013 focused on the emerging technologies of Telecom APIs (later called CPaaS, Communications Platform as a Service), WebRTC, open source telecom software, API management, and the many vertical applications of those technologies. Today TADSummit 2017 focuses on understand what programmable telecoms (the collective noun for all the enabling telecom technologies) means for your business; and the broader role software is having on the network itself. Programmable Telecoms is becoming mainstream, though there is much education required, as discussed in many conversations at the event. TADHack plays a role in broadening awareness and demonstrating first-hand the power of programmable telecoms, as does every sponsor and partner in their everyday work.
Examining some of the important trends and insights from TADSummit, and apologies for not covering all the presentations and topics raised, these are the ones that caught my interest. The convergence of IT and Telecoms has been known for close to 30 years, yet the telco standards bodies remain convinced telco-special standards are still required. Its clear to me they are trying to keep themselves employed until retirement, and are retarding the telco industry. As was clearly demonstrated at TADSummit 2017, from the Innovation Showcase from DataArt, David Dias progress report on the decentralized web, Thomas Quintana's review of cognitive telecoms, Sacha Gera's update on Kandy and the technologies they use, Michael Lazar on Virtualization security, Dean Bubley and Patrice Crutel's presentations on the rise of private mobile networks, and underlying all the presentations: innovation comes from using the latest IT/Web tools and techniques not hiding in a telco silo.
The telco institutions (GSMA, TMF, strategic suppliers) are greater barriers to innovation for telcos than ever. A comment made from someone who last attended TADSummit in 2014 in Istanbul was, "where have all the telcos gone?" In person we have a few from DT, KPN, Telefonica, and a few other telcos viewing remotely, e.g. BT, O2, Vodafone, AT&T, and Telstra. Traditional Telco involvement is down but xVNO and enterprise-focused service provider involvement is way up, and that is an important observation. TADSummit is the telecom service innovation event, and traditional telcos are simply not that focused on service innovation anymore; rather obsessed on 'continuous transformation to nowhere' and waiting for the 'promises of 5G'. Frankly sharing my experience, all developing market telcos should be working with hSenid Mobile to repeat the success of Sri Lanka; I've provided loads of intros. Instead they select Huawei and end up with stalled projects. Change rarely happens with the same people, processes and technologies; you have to change them all! We're an open ecosystem at TADSummit, I extend personal invitations to many telcos around the world, its not for my want of trying. I describe my role in TADSummit as being ignored as a profession 🙂
There was a telco-focused highlight at TADSummit, immmr.  We show the future of telecoms, and the increasing gap between telco industry rhetoric on innovation. There are exceptions to this rule. Immmr is a great one, it was the potential to become a success template for all telcos. I strongly recommend all telcos reading this weblog review Sebastian's presentation.
TADSummit has presentations from enterprises innovating in programmable telecoms.  Utku Yavuz, Senior Collaboration Services Engineer at Garanti Teknoloji (part of Garanti Bank) was a winner at TADHack-mini Orlando. He's taken his hack and implemented it within his business. This is a perfect example of how TADHack and TADSummit work together to grow the programmable telecoms market.  Philippe Vayssac, CIO Groupama, not only shared his award winning innovation exo.expert, but also gave an excellent evening workshop on Design Thinking and Effectuations. The tools and processes for helping create successful innovation come from everywhere, and do not need telco-special treatment.
The convergence of CPaaS and UCaaS by VoIP Innovations, Telestax, Wazo, and Ribbon Communications (Kandy) was clearly shown. CPaaS is essentially a telecom app server in the cloud, so UC is just one of many applications that can run on that server. And this leads to the rise of Marketplaces / Showrooms; VoIP Innovations with ottspott and Voxist, Telestax with Veeting and Simfony Mobile, Ribbon Communications (Kandy) with Five9 all provided great examples.  Its a staircase of commitment from simply consuming a service off the shelf, through configuring, customization, to integrating it into a business using APIs. Though there are clear benefits in running in the cloud, as described by Greg Sikora from Telestax, some of the solutions are available as open source software for ISVs to implement and customize to there needs, e.g. Wazo and Telestax. This diversity is possible given the competitive price points, and enables many go to market options to be explored. We are currently in unexplored territory, its no longer about spending millions going "we have APIs, woohoo!" rather solving business problems and delivering solutions in the form customers need today and that can easily evolve as the customers' needs / confidence / problems evolve.
Day 2 really drove home the point that we're about to witness an explosion in businesses owning and running their own mobile networks. Kicking off with Patrice Crutel of CapGemini, then the MONeH demo from James Body et al., and wrapping up with Dean Bubley on Enterprise & IIoT (Industrial Internet of Things) Mobile networks.  Privately owned Radio Access Networks with embedded Evolved Packet Core (EPC) are now able to accept inbound roaming traffic from other mobile network users. There are a number of stepping stones to this state, especially in IoT networks, as covered in the Simfony Mobile presentation.
A point I made in the closing panel was the  assembly of technologies into solutions is getting easier and easier. Its a multi-decade trend, but its accelerating. TADHack benefits from this greatly. The presentations from Veeting, Simfony, TapToSpeak all showed how their offers get assembled into solutions to business problems.
There are many more insights from the presentations, and I have not even touched upon all those gained from the conversations from the people leading the programmable telecoms industry. Just to finish, through 2018, keep an eye on:
Decentralized web
Cognitive Telecoms
Design Thinking and Effectuation
MONeH and private mobile networks (enterprises have run their own fixed networks for decades, even national / global networks, so adding mobile is not that great a step.)
Virtualization security (NFV wakes up to IT realities)
Enterprise messaging with end to end encryption (Matrix and Wire)
CPaaS/UCaaS convergence and the rise of Showrooms/MarketPlaces
A2P security/privacy as a service in conversational CRM
immmr as a template of innovation
More co-ordinated pressure on telco institutions to do what's right for the end customers rather than themselves, with tyntec leading the charge in the US on long code SMS.
And of course all the TADSummit sponsors and partners – who's going to be acquired next?
See you at TADSummit 2018, 13-14 November in Lisbon.