These TADSummit 2022 reviews are a chance to give all the excellent content deserved attention and add my commentary on its importance. In this article I cover the presentations focused on conversation intelligence. Here are the links to the review of the Keynotes, and to my presentation What Happened Since we Last Met?, lots more to come.
With these links you can get to all the TADSummit content directly: Photos, Videos, Slides, Brief Agenda with videos and slides, Full Agenda with videos and slides.
And I can not say this enough, thank you to STROLID, Broadvoice / GoContact, Radisys, RingCentral, Stacuity, and AWA Network / Automat Berlin for sponsoring TADSummit 2022. And thank you to all the presenters and attendees in making the event excellent.
How to best maximize the conversation data stream for your business? 
Surbhi Rathore, CEO & Co-Founder, Symbl.ai. Slides and Video
This is an excellent update from Surbhi of Symbl.ai on their progress. Conversation Intelligence is a tough business. Many chatbot companies have been bought, only for the buyer to realize Google Dialog Flow and the chatbots on WhatsApp etc, have the market sewn up. Now Symbl.ai is NOT a chatbot company, but that's the common assumption on hearing the term conversation intelligence.
However, companies like Kore.ai have built a business through focusing on high value niches, for example in financial services, a strategy mentioned in the TADSummit Keynotes by Joao and Marten.
Surbhi presents an important explanation on where Symbl.ai is focusing and how to integrate all the information from voice into the datastream of a company. That is the flow of information (voice, text, operational data) through an ETL pipeline (extract, transform and load) that is then used for business intelligence, applications, research and analysis, etc.
ETL is a data integration process that combines data from multiple data sources into a single, consistent data store that is loaded into a data warehouse or other target system.
The insight from the audio stream feeds through APIs with for example:
Marketo (lead scoring) – Entities, Sentiments, Intent to buy and upsell
SFDC (CRM data) – Objections, Competitive Mentions, Missed Opportunity
Gainsight (success metric) – Churn Risk, NPS, Empathy, Sentiments
Echoing the points Thomas raised in his vCon keynote, Surbhi reviews entity detection and redaction; sentiments; and intent detection through the Symbl.ai platform. And all those conversations can be stored as vCon.
Surbhi wraps up on the Symbl.ai platform that captures the audio stream insights and complements the existing enterprise analytics, as well as enables a stand alone approach. It's great to see Symbl.ai's progress and where they are focusing in conversation intelligence as the market matures.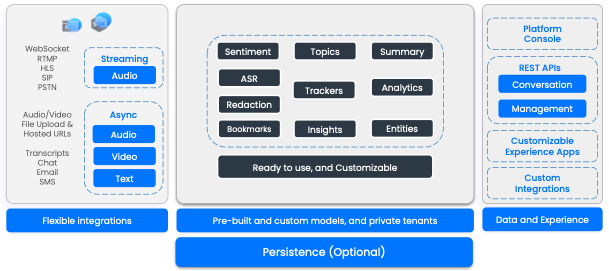 CPaaS Conversational Platforms and Conversational Customer Service – The Experience Gap? 
Ben Waymark, Chief Technology Officer, Webio. Slides and Video.
This was Ben's first time at TADSummit, normally Paul Sweeney attends. It was great to meet more of the Webio team 🙂
Ben mentioned the book by Walter Ong, Orality and Literacy, that explores the vast differences between oral and literate societies offering an account of the intellectual, literary and social effects of writing, print and electronic technology societies.
In oral societies everything is learned by rote, with literate societies the emergence of extensive rules and laws appears. And within literate societies a second oral tradition emerges with plays, radio, and music.
Ben then drew an analogy to computing, with programing, and in time programming could become conversational. A stark example is the limitations of Alexa, we simply bark commands, it isn't conversational. For me Alexa's use cases are setting timers when my hands are busy cooking, or asking for music when driving. Its great we can openly talk about the limitations of Alexa, we need much more critical thinking in our industry on conversation intelligence.
Context matters to conversation interfaces, asking Alexa when is the next bus requires context for it to be conversational. And beyond context the next hurdle are the tools to make the conversation flow, and depending on the interface used voice recognition can still be a problem.
Ben gave a funny example on accents. I have the opposite problem in the US when asking people for water, I just get a perplexed look. I have to pronounce it waataa, and it's immediately understood. Ben gave KLM as an example, and their interface still relies on button driven menus even given all the work to make it conversational.
There's a mountain to climb. However, if we can build the tools, Erika Hall did a great book on Conversational Design. Research and information design expert Erika Hall explains what makes an interaction truly conversational and how to get more comfortable using language in design. From understanding the human interface, to effectively using the power of personality, to getting it all done, she shows how the art of communication can elevate technology.
There's load more Ben covers, he set out more gaps and the road map to delivering conversational interfaces that finally work without human intervention. Well done Ben for sharing such a frank and insightful presentation. Presentations like Ben's are why I'm proud of TADSummit.
Quite by chance I was reading "Becoming a chatbot: my life as a real estate AI's human backup" by Laura Preston, and she covers some of the issues Ben raises from her mind numbing experiences in the field. For example she also learned from the bot. Want to closedown a line of questioning? Copy the bot and repeat the same answer several times.
One aspect Laura did not cover was how rude people can be to chatbots. Elayne Ruane last year gave an excellent presentation on Content Moderation for Chatbots at TADSummit. I think one of the reasons is people thought they were talking to a real person from which they needed their help. Context matters!
Master the Audience Experience Multiverse: AX Best Practices and Success Stories.
Ken Herron, Chief Growth Officer, UIB. Joe Gravante, founder Union Studios. Slides and Video
We've had some excellent presentations from UIB over the years, I particularly liked Muzzamel's presentation on how not to build a chatbot from last year.
AX (Audience Experience) is the ability to engage a target audience; for example, customers, employees, citizens, and others, by creating a compelling Audience Experience (AX) at scale. Its broader than customer experience. A compelling AX directly translates to decreasing costs, increasing revenues, and most significantly, creating a positively differentiated total audience experience.
AX core technology is the dual pillars of AX – omnichannel messaging and conversational AI. Simply its any channel, with any language, with mode (text, audio, video).
Ken ran through some deployments, sharing the best practices learned:
As a personal example, one of my neighbors called 911 in 2018 because they were worried about their child could die from 'dry drowning', which was a popular social media story. It's not a real thing. Here is were a chat with a Dr to tell my neighbor to stop being stupid would have saved everyone time and effort. Yes, America really does need this filtering when 911 is called.
A great aspect of all of UIB's deployments and best practices is they reinforced the issues Ben described in his presentation. And show even with the gaps from a fully conversational interface, with focus, conversation intelligence can solve compelling problems.
Latest Updates and Experiences in Launching Local Language Tools.
Karel Bourgois, Founder Voxist, President Le Voice Lab, Exec Director Slatch, Chapter Pilot France AI Hub. Slides and Video
As Ken highlighted in his best practices with chatbots, local matters. And Karel shared in his presentation the latest updates and experiences in launching local language tools.
Karel provides some background on Voxist, which began from a hack at TADHack Paris in 2016. The idea was simply a voice assistant when you reach voicemail. And Voxist started with 2 features, personalized greetings and speech to text, so you can read your voice messages. For the latter feature many telcos charge to this day.
Karel discussed the business models of Voxist, the inevitable challenges of the B2C freemium model. As Joao mentioned in his keynote. However, B2C was to prove there was consumer demand for Voxist's features. Voxist has a B2B model where consulting and legal firms could manage all the voicemails received.
But Karel's longer term business model B2B2C, that is selling through telcos as their voicemail apps are poor. However, 6 years later, he's still having those conversations. I have a series of weblogs, 4 part litany of excuses, on why Karel does not consider telcos a channel to market anymore. There are other problems telcos have with their networks, like divert on no answer not working, which further limits their ability to innovate in communications.
While Karel was struggling to get the B2B2C business model up and running, he was also working on improving ASR. He needed a large French language data set. So he created Le Voice Lab to gather the voice tech companies to work together in creating a larger data set, which today is 9000 hours, 5 times the size of when they started, but 10% of where they want it to be.
In working together they plan to offer a marketplace, to make finding French language voice tech easy. Well, any European language in the limit.
So Voxist is augmenting its offer beyond voicemail by adding ASR for French and English, Voxist AI. With plans for Spanish, Portuguese, German, Italian; and other capabilities. And most importantly Voxist has paying customers for this business!
Why now with this new business model? The emergence of transformer based learning models about 3 years ago enabled ASR to be created with far less data. So he could build it himself. Karel compares the traditional ASR model with the new approach of end-to-end neural networks. So its possible to build a language model directly from Speech: less annotated data; less specialized linguistic skills; and no phonetic lexicons. Voxist aim is to offer the ASR API in real-time.
Karel then runs through the hybrid ASR approach Voxist is using, so they can deliver performant solutions for specific use cases. Below is the word error rate (WER) Voxist achieves compared to other ASR with their hybrid approach. Another application they are working on is video indexing. Here the overlap between Voxist and Symbl.ai in bringing video and audio into the enterprise data stream shows the many emerging applications areas of conversation intelligence.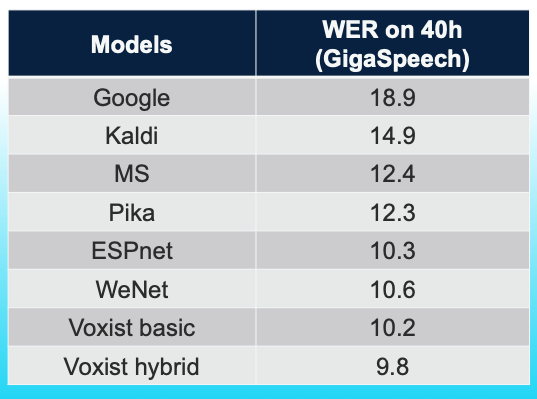 Finally, Karel reviews how many of the solutions are implemented at the edge of voice networks, not at the core, that is the telco's core network. He gave a few examples on speech enhancement and voice agents should be implemented by telcos. So perhaps in time Voxist will consider the B2B2C model with telcos again?
Check out Voxist's new APIs, currently it's coming soon.
With these links you can get to all the TADSummit content directly: Photos, Videos, Slides, Brief Agenda with videos and slides, Full Agenda with videos and slides.
And I can not say this enough, thank you to STROLID, Broadvoice / GoContact, Radisys, RingCentral, Stacuity, and AWA Network / Automat Berlin for sponsoring TADSummit 2022. And thank you to all the presenters and attendees in making the event excellent.