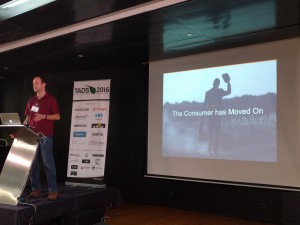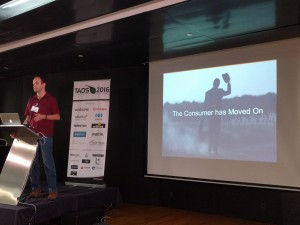 TADSummit 2016 is the thought-leadership event in telecoms. The attendees are a who's who of the programmable telecoms industry. We have a diverse audience across developers, enterprises, enterprise service providers, telcos, and programmable telecoms technology / service providers. We bring together the innovators making a difference in people's lives, to share their real-word experiences.  We pack 3 days of content into only 2 days.
People are hacking late into the night to share with their peers how 'idea to realization' in now a matter of hours / days. Given the industrialization of telecom app development, those services can similarly be tested and taken to market in hours / days. There is an exciting shift happening in the speed of telecom app development. Telecoms is far from a tired-old legacy business, the convergence of telecoms and the web is creating lots of new businesses, impacting people's lives and country's economies around the world. Please review all the presentations we make available to see the amazing things happening around the world in telecom app development.
In my TADSummit 2016 Welcome I reviewed the past year by the numbers, what TADSummit has in store over the next 2 days, and introducing some of the TADHack Global winners from around the world. Telecoms is democratized and innovation using telecom app development is happening everywhere. Our aim with TADS is to help people be successful in telecom app development, either in the technology and/or business. This is made possible by the community of open, like-minded implementors taking part in TADHack and TADSummit.
From the links below you can see the videos and slides in the weblogs that review all the sessions. You can also directly access the videos from TADSummit 2016 youtube channel. And we'll have the photos up on the TADSummit website shortly.
CARNIVAL OF THE CREATORS: Keynotes from Innovators in Telecom App Development. This was an intense, fast-paced session (5 min pitch, 5 min Q&A) demonstrating success case after success case. Its not just start-ups, its large established enterprises and telcos. It provided a summary / teaser of all the content to come over the 2 days of TADSummit, and provided a inspiring way to kick-off TADSummit 2016.
Sponsors' Plenary: The Brain Trust of Our Industry. After the "Carnival of the Creators" everyone knew they were somewhere special. We had also reached peak attendance with lunch being provided. So the timing was perfect for the brain trust of our industry to present.
Day 1 Streams:
Stream 1, New Service Delivery Methods. In all the impressive demonstrations its easy to miss, but there was an important announcement made by Lime Microsystems that the LimeSDR will support the snappy app store. Not only does a mobile basestation cost just a few hundred dollars, it also can support lots of new services. As an enterprise its now also your PBX, as an MVNO its now your core telephony platform running at the edge, it can stores movies and training courses for Africa villages where streaming video was once impossible. This is going to be an exciting platform to hack on in TADHack Global 2017!
Stream 2, Case Studies in Telecom App Development Part 1. Reviews the successful practical applications of IoT / M2M, WebRTC, Telecom APIs, and the many mash-ups across these capabilities. Being based on hard-won real-world experience is a foundational component of TADS, it stops the garbage-in:garbage-out (GIGO) of many marketing and analyst presentations.
Stream 3, Project reTHINK: Decentralised Communications. This was the first time the three leading projects in the decentralized / distributed web came together: Project reTHINK, IPFS and Matrix.org. Rather than being in out-right competition as we've seen in decentralized social networks. The projects were quite complementary. Forming the core of the decentralized web, with good alignment of objectives. This has the potential to move fast, within 3 to 5 years we could see the distributed web in wide-spread use.
Day 2 Morning Plenary. Where we dived into the details behind the successes presented in Carnival of the Creators. As well as Dean Bubley provided a nice review on the current state of real time communications.
Day 2 Streams:
Stream 4, Contextual Comms, Conversational CRM, BOTs. Reviews the practical impact of the changes happening to communications. Messaging and IP Communications as a Platform providers are diversifying the options for communications, and how businesses communicate with their customers.
Stream 5, Case Studies in Telecom App Development Part 2. Start-ups, enterprises and telcos are using telecom app development to build new lines of business and improve their existing operations. Though it may not have the sizzle of disruption or digital transformation; its where the bulk of the money us being made. This session will be a series of case studies on the practical application and business benefits of telecom app development.
Stream 6, Dangerous Demo. This is a regular feature of TADHack and TADSummit. It shows to the industry what is actually possible at scale using a range of off-the shelf, open source, and new technologies. If you want to see the latest in network and service infrastructure 6-24 months before any other event, this stream delivers.
Day 2 Afternoon Plenary and Closing Keynote with Alan Masarek, CEO Vonage. Telecoms is far from a tired-old legacy business, the convergence of telecoms and the web is creating lots of new businesses, impacting people's lives and country's economies around the world.
I wrapped up TADSummit 2016 with "TADS in 2017." TADHack is the largest global hackathon over one weekend, its focused on telecom capabilities. Its a celebration of developers, creativities and telecom enabling technologies. TADSummit has become the telecom innovation event, it brings the ecosystem together for a practice-focused discussion on the application of telecom capabilities. Telecoms is now democratized, anyone with web skills can now use it in their applications, services and business.
In 2017 we will be partnering with Enterprise Connect to run TADHack-mini Orlando, just before the conference. Hacks will be presented in the main conference. It will be a clear practical demonstration of enterprise-focused telecom-enabled innovation. Similar to what Philippe from Groupama showed in the morning. TADHack sponsors walk the talk, they have confidence in their platforms to stand shoulder to shoulder with competitors and partners. TADMentor announced last year continues to grow, with over 250 people involved. The cPaaS market is consolidating and becoming more service focused to expand its addressable market. Telecoms continues its democratization, which impacts developers, enterprises, consumers, and the traditional telecoms ecosystem.
Please let us know what you want from TADSummit and TADHack in 2017.